FOCUS Holdings USA Obtains ESOP Financing from EagleBank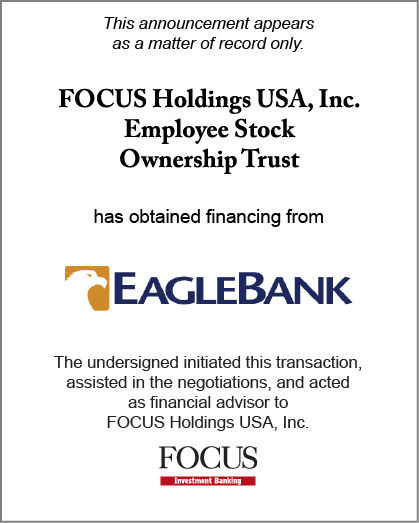 Atlanta, GA, (December 12, 2018) – FOCUS Investment Banking, a national middle market investment banking firm providing merger, acquisition, divestiture and corporate finance advisory services, announced today that the FOCUS Holdings USA Employee Stock Ownership Plan & Trust has obtained financing from EagleBank in connection with its acquisition of FOCUS Investment Banking LLC.
FOCUS Holdings USA owns FOCUS Investment Banking, and FOCUS Securities, which provide advisory services to US-based and international clients.
EagleBank is a regional bank with 31 locations in Maryland, Virginia and Washington D.C., with a history of financing ESOP transactions.
Doug Rodgers, President and CEO of FOCUS Holdings USA, commented, "We are very pleased with EagleBank's commitment to achieving our long-term goals. Becoming an employee owned company is very complimentary with our growth and recruiting strategies going forward."
Added Bob Beard, FOCUS Investment Banking Managing Director, "ESOP transactions require a great deal of understanding of the Department of Labor regulations and the complexities of ESOP structures. The professionals at EagleBank clearly understand the nuances required to complete transactions of this type."
*These testimonials may not be representative of the experience of all clients; testimonials are not a guarantee of future performance or success.
About FOCUS Investment Banking
With more than three decades of experience, FOCUS Investment Banking is a trusted name in M&A advisory services worldwide.  FOCUS works to understand each client's strategic and financial objectives, craft the best plan to achieve these goals, and deliver success.  Whether helping to sell, buy, or raise capital, FOCUS strives to maximize the value of every transaction to the benefit of its clients. Securities transactions conducted by FOCUS Securities LLC, an affiliated company, registered Broker Dealer member FINRA/SIPC. For more information on FOCUS, visit www.focusbankers.com.