Middle Market Investment Banking Firm, FOCUS LLC, Represents Pleiad in Acquisition by CROMSOURCE International Transaction in Life Sciences and Clinical Research Organization Industry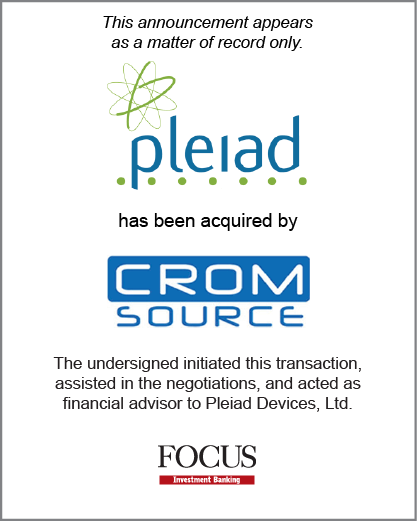 Washington, DC (June 4, 2012) – FOCUS LLC, a national middle market investment banking firm providing merger, acquisition, divestiture and corporate finance services, announced that Pleiad, domiciled in Stirling,Scotland, with a substantial presence in the U.S. (Cambridge, Massachusetts) has been acquired by CROMSOURCE, headquartered in Verona, Italy. FOCUS represented Pleiad in the transaction.
Launched in 1999, Pleiad has been providing clients clinical trial management and regulatory consulting for Medical Device and Ophthalmology companies and has also become known for its strong capabilities within statistics and data management.
According to Dr. Jim Hawkins, FOCUS Managing Director, "Over the past five years, the Clinical Research Organization sector has become one of the specialties for the FOCUS Life Science practice. As in the case with Pleiad and CROMSOURCE, we strive to bring companies together where we feel a great deal of strategic value will result from a transaction.
CROMSOURCE, an international full-service Contract Research Organization since 1994, provides clinical trial services and staffing solutions to clients in Europe, Russia, Ukraine and the USA, and operates a high quality early phase research unit. CROMSOURCE provides One Trial One Price – a fixed price guarantee which assures clients that each project will be delivered according to contract price.
Dr. Helen Colquhoun, CEO of Pleiad, noted, "We share with CROMSOURCE a similar philosophy of quality, flexibility and intense customer focus. We are excited to be joining the CROMSOURCE family and working together to provide exceptional service to our current and future clients."
Gerald Turner, Managing Director of FOCUS, added, "This acquisition allows CROMSOURCE to expand their presence in the U.S. and into medical device and ophthalmology projects, something they have wanted to do for a long time. Once again, FOCUS has successfully brought two non-US domiciled companies together and our client, Helen Colquhoun, has been appointed Senior Vice President of CROMSOURCE."
*These testimonials may not be representative of the experience of all clients; testimonials are not a guarantee of future performance or success.
About FOCUS LLC
FOCUS LLC provides a range of middle market investment banking services with an emphasis on mergers, acquisitions, divestitures and corporate finance. FOCUS is a national firm serving clients from offices in major cities across the United States. FOCUS specializes in business units with transactions or revenues in the $5-300 million range, serving entrepreneurs, corporate owners and various types of investors across a broad range of industries, throughout the U.S. and worldwide. FOCUS bankers are seasoned operating and financial executives with extensive transaction experience. Securities transactions conducted by FOCUS Securities LLC, an affiliated company, registered Broker Dealer member FINRA/SIPC. For more information on FOCUS, visit www.focusbankers.com.
Inside the Deal
Deal Type
Client(s)
Pleiad Devices, Ltd.
Stirling, Scotland
FOCUS Teams Involved
FOCUS Teams Involved