FOCUS Investment Banking Represents The Panum Group, LLC in its Recapitalization by Renovus Capital Partners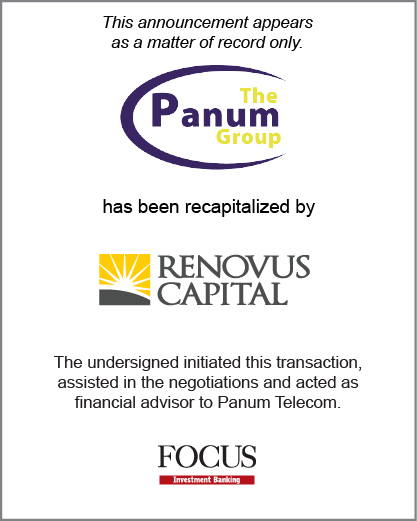 Washington, DC (June 19, 2017) – FOCUS Investment Banking, a national middle market investment banking firm providing merger, acquisition, divestiture and corporate finance services announced today that The Panum Group, LLC has received a significant minority investment from Renovus Capital Partners.  FOCUS represented The Panum Group in the transaction.
Based in Bethesda, Maryland, Panum Group is a leading professional services organization providing program management, acquisition support and IT services to Federal Government agencies. This transaction will allow Panum Group to expand its services and geographical reach to better serve the needs of its clients such as the U.S. Department of Agriculture and Department of Homeland Security.
Sujata Gupta, CEO and co-founder of Panum Group, explains, "The Panum team is delighted to be a member of the Renovus family of companies."  "We partnered with Renovus because they understood the unique attributes of our business and structured a transaction preserving that, while allowing my team and I to maintain a significant stake in the company," added Vaikunth Gupta, Panum co-founder.
Renovus Capital Partners is an education, training and human capital focused private equity firm based near Philadelphia. They manage $485 million in assets under management through two SBIC funds. The firm is an active investor in profitable and growing enterprises where, in partnership with management, can create value through operational improvement, strategic growth initiatives and acquisitions.
According to Manan Shah, FOCUS Partner and Government Aerospace and Defense Team Leader, "This transaction exemplifies continued strong interest from financial buyers in the government services businesses particularly with those that are exhibiting a strong margin profile. We are very confident that together they will establish Panum as a market leader within the PMO services category."
*These testimonials may not be representative of the experience of all clients; testimonials are not a guarantee of future performance or success.
About FOCUS Investment Banking LLC
With more than three decades of experience, FOCUS Investment Banking is a trusted name in M&A advisory services worldwide.  FOCUS works to understand each client's strategic and financial objectives, craft the best plan to achieve these goals, and deliver success.  Whether helping to sell, buy, or raise capital, FOCUS strives to maximize the value of every transaction to the benefit of its clients. Securities transactions conducted by FOCUS Securities LLC, an affiliated company, registered Broker Dealer member FINRA/SIPC. For more information on FOCUS, visit www.focusbankers.com/technology.
Inside the Deal
Deal Type
Client(s)
Panum Telecom
Bethesda, MD, U.S.A.
Transaction Partner(s)
Renovus Capital Partners
Wynnewood, PA, U.S.A.
FOCUS Teams Involved