FOCUS Investment Banking Advises Learning Tree International on Convertible Line of Credit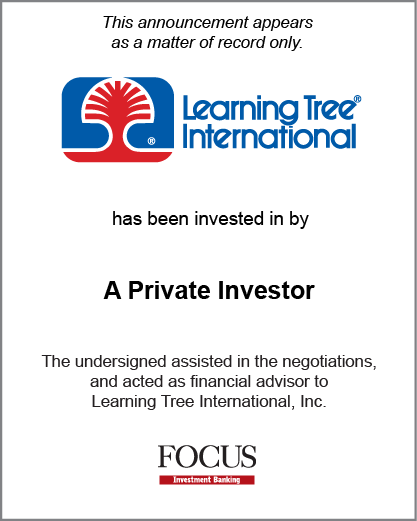 Washington, DC, (July 30, 2018) – FOCUS Investment Banking, a national middle market investment banking firm providing merger, acquisition, divestiture, and corporate finance services, announced it assisted in securing $5 million in financing for Learning Tree International, Inc. (OTCQX: LTRE) from a private investor (the "Investor").  FOCUS represented Learning Tree International, Inc. in this transaction.
The financing is a Line of Credit Agreement with the Investor that provides the Company with access to borrow up to $5.0 million at a fixed interest rate of 5% per annum. The principal amount of sums that are borrowed by the Company from the Investor under the Credit Agreement may be converted by the Investor into shares of Common Stock at any time during the 10-year term of the agreement at a conversion price of $1.00 per share. The Company has received an initial advance under the Credit Agreement in the amount of $2.0 million.
Learning Tree provides practical, real-world training for IT professionals and managers. Their extensive course library is taught by industry experts and guaranteed to provide extensive, practical hands-on training experience. From instructor-led classrooms to online training, Learning Tree offers convenient delivery options to meet all training needs.
"With this financing we have gained access to additional capital resources needed to focus on our goal of becoming the premier global provider of workforce development solutions related to technology and business," stated Mr. Richard Spires, CEO of Learning Tree International.
Eric Oganesoff and Bob Beard, FOCUS Managing Directors, led this transaction to completion.
About FOCUS Investment Banking LLC
With more than three decades of experience, FOCUS Investment Banking is a trusted name in M&A advisory services worldwide. FOCUS works to understand each client's strategic and financial objectives, craft the best plan to achieve these goals, and deliver success. Whether helping to sell, buy, or raise capital, FOCUS strives to maximize the value of every transaction to the benefit of its clients. Securities transactions conducted by FOCUS Securities LLC, an affiliated company, registered Broker Dealer member FINRA/SIPC. For more information on FOCUS, please visit www.focusbankers.com.
Inside the Deal
Deal Type
Client(s)
Learning Tree International
Herndon, VA, U.S.A.
Transaction Partner(s)
A Private Investor
U.S.A.
FOCUS Teams Involved
FOCUS Teams Involved