FOCUS Investment Banking Represents Cyber Security firm Kivu Consulting, Inc. in its Recapitalization by Bow River Capital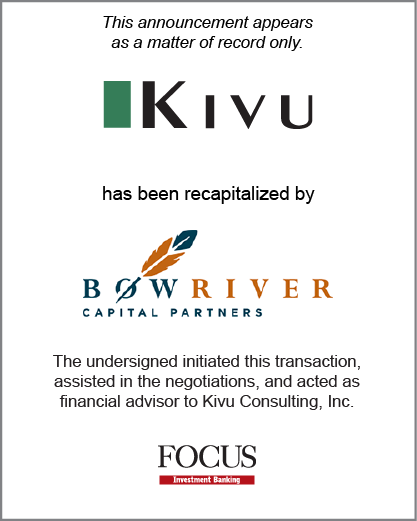 Washington, DC, (February 12, 2019) – FOCUS Investment Banking, a national middle market investment banking firm providing merger, acquisition, divestiture, and corporate finance services, announced today that Kivu Consulting, Inc. has been acquired by Bow River Capital. FOCUS represented Kivu Consulting in this transaction.
Since 2009, Kivu Consulting has provided incident response, risk management and forensics investigation services to clients around the globe. Kivu is well known in the cyber security industry for its high level of technical expertise and practical business solutions. It is the leading provider of digital forensic services to the cyber insurance community in North America and Europe. The founders, Kim Niquette and Winston Krone, and the other members of the team will continue in their current roles.
"Kivu has been in a unique position in a rapidly growing cybersecurity market specifically as it relates to incident response. This transaction is indicative of a strong investment appetite among private equity groups and strategic buyers looking to consolidate and augment their offerings in a very fragmented market," said the FOCUS team that advised on this transaction.
Manan Shah, George Shea and Doug Rodgers from FOCUS advised on the transaction.
*These testimonials may not be representative of the experience of all clients; testimonials are not a guarantee of future performance or success.
About FOCUS Investment Banking
With more than three decades of experience, FOCUS Investment Banking is a trusted name in middle market M&A advisory services worldwide. FOCUS works to understand each client's strategic and financial objectives, craft the best plan to achieve these goals, and deliver success. Whether helping to sell, buy, or raise capital, FOCUS strives to maximize the value of every transaction to the benefit of its clients. Securities transactions conducted by FOCUS Securities LLC, an affiliated company, registered Broker Dealer member FINRA/SIPC. For more information on FOCUS, visit www.focusbankers.com.
About Bow River Capital
Founded in 2003, Bow River Capital ("Bow River") is a private alternative asset management company based in Denver, Colorado, with Buyout, Real Estate, Software Growth Equity and Energy Fund platforms. Bow River's platforms focus on the lower middle market across a geographic area referred to as Bow River's Rodeo Region®, which encompasses the Rocky Mountains and surrounding states. Collectively, Bow River has deployed capital into diverse industries, asset classes and across the capital structure.
Inside the Deal
Client(s)
Kivu Consulting, Inc.
San Francisco, CA, U.S.A.
Transaction Partner(s)
Bow River Capital Partners
Denver, CO, U.S.A.
FOCUS Teams Involved
FOCUS Teams Involved