Middle Market Investment Banking Firm FOCUS LLC Represents Independent Fiduciary Services, Inc. in its Recent Sale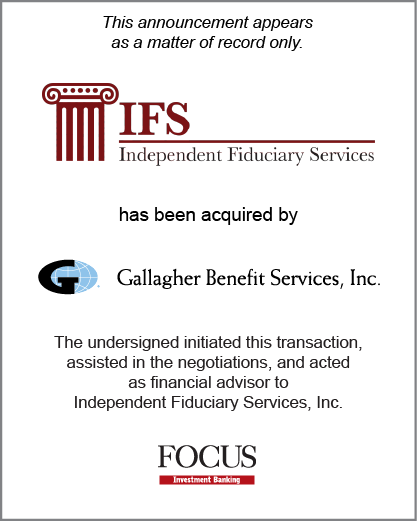 Washington DC (June 26, 2011) – FOCUS LLC, a national middle market investment banking firm providing merger, acquisition, divestiture and corporate finance services, announced today that it represented Independent Fiduciary Services, Inc (IFS) in its acquisition by Arthur J. Gallagher & Co.
According to Frank Lilly, CEO at IFS, "FOCUS assistance was invaluable to IFS in putting this transaction together. They helped us in all areas related to transactions right from the start of the process and all the way to closing. We are very happy about the outcome." IFS is an institutional investment advisory firm providing retainer investment consulting services to corporate and public-sector pension plans as well as serving as independent fiduciary for pension, 401(k) and other plans.
Manan Shah, FOCUS Partner, adds, "We are very pleased to have represented IFS on this important transaction. Cultural symmetry and ease of integration were key consideration for our client going into this transaction while looking for a larger partner to combine their organization with. In the end, we have accomplished the objectives we had set forth with our client at the outset of this engagement."
About FOCUS LLC
FOCUS LLC provides a range of middle market investment banking services with an emphasis on mergers, acquisitions, divestitures and corporate finance. FOCUS is a national firm serving clients from offices in major cities across the United States. FOCUS specializes in business units with transactions or revenues in the $5-300 million range, serving entrepreneurs, corporate owners and various types of investors across a broad range of industries, throughout the U.S. and worldwide. FOCUS bankers are seasoned operating and financial executives with extensive transaction experience. Securities transactions conducted by FOCUS Securities LLC, an affiliated company, registered Broker Dealer member FINRA/SIPC. For more information on FOCUS, visit www.focusbankers.com.
Inside the Deal
Deal Type
Client(s)
Independent Fiduciary Services, Inc. (IFS)
Washington, DC, U.S.A.
Transaction Partner(s)
Arthur J. Gallagher & Co.
Itasca, IL, U.S.A.