Middle Market Investment Banking Firm FOCUS LLC Assists Global Computer Products with a Revolving Line of Credit from Access National Bank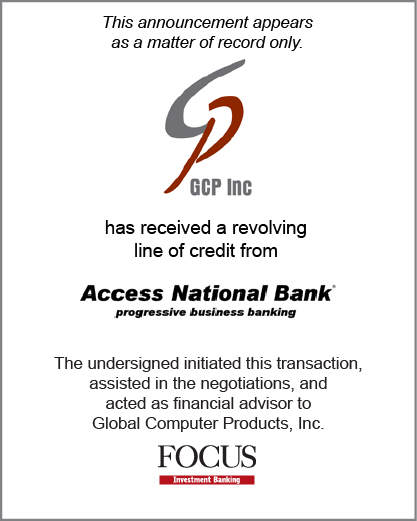 Washington (November 5, 2010) – FOCUS LLC, a national middle market investment banking firm providing merger, acquisition, divestiture and corporate finance services, today announced that Global Computer Products, Inc. (GCP) has established a revolving line of credit from Access National Bank. FOCUS represented GCP in the transaction.
"We are delighted to have this facility in place which will support our future growth plans as we look to aggressively scale up our business in the coming years." said Kalyan Pathuri, CEO of GCP.
Established in 1997 and headquartered in Chantilly, Virginia, GCP is a dynamic global information technology firm, with distinguished clients that include many Fortune 500 companies. GCP provides system solutions to clients in the areas of information technology and management. In 2009, GCP expanded its operations to provide acquisition support to Federal medical and laboratory facilities and activities.
"We are happy to be a partner with GCP on this transaction," said William Nalls, Senior Vice President at Access National Bank, a leading bank in the Mid-Atlantic region.
Manan Shah, partner and team leader of the Government, Aerospace & Defense Group at FOCUS states, "There is ample funding for small businesses that reflect good business fundamentals. We continue to see an increased level of lending activity from banks and other financing institutions in support of these businesses."
For more information about FOCUS and its Government Aerospace & Defense Group, visit www.focusbankers.com/GAD.
About FOCUS LLC
FOCUS LLC provides a range of middle market investment banking services with an emphasis on mergers, acquisitions, divestitures and corporate finance. FOCUS is a national firm serving clients from offices in major cities across the United States. FOCUS specializes in business units with transactions or revenues in the $5-300 million range, serving entrepreneurs, corporate owners and various types of investors across a broad range of industries, throughout the U.S. and worldwide. FOCUS bankers are seasoned operating and financial executives with extensive transaction experience. Securities transactions conducted by FOCUS Securities LLC, an affiliated company, registered Broker Dealer member FINRA/SIPC. For more information on FOCUS, visit www.focusbankers.com.
Inside the Deal
Deal Type
Client(s)
Global Computer Products, Inc. (GCP)
Chantilly, VA, U.S.A.
Transaction Partner(s)
Access National Bank
Reston, VA, U.S.A.
FOCUS Teams Involved
FOCUS Teams Involved
FOCUS Teams Involved