FOCUS Investment Banking represents FutureTech Holding Company in its Acquisition of A2U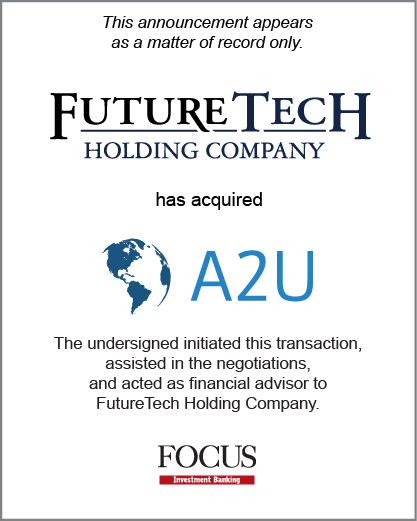 Atlanta, GA, (June 18, 2018) – FOCUS Investment Banking, a national middle market investment banking firm providing merger, acquisition, divestiture, and corporate finance services, announced today that FutureTech Holding Company (FTH) has acquired A2U through its subsidiary Accscient, LLC in partnership with Alaris USA, Inc. FOCUS represented FTH in this transaction.
FTH, established in 2005 and based in Peachtree Corners, GA, is a leader in IT and IT enabled services with strategic holdings in the financial, technology and healthcare sectors.
A2U, founded in 2003 and based in Cranberry Township, PA, is a thought leader in the IT industry. Initially, A2U began as a cloud hosting company. Today, they are one of about 30 Citrix Platinum Partners in the country. The firm  is highly recognized as a Platinum Partner in IVANTI, IGEL, Imprivata and eG Innovations technologies.
Sravan Vellanki, Chairman & CEO of FTH said, "We're thrilled to add this kind of expertise and dynamic leadership to our team, including the addition of A2U's high-end engineers. Customers can expect the same great A2U smarts and service, along with added resources in data protection, migrations, converged and hyper-converged infrastructure, storage, virtualization, digital transformation, robotics automation and more."
Manan Shah, FOCUS Partner and IT Team Co-Leader commented, "This is our second transaction with FTH this year. A2U's strong capabilities in the cloud and managed services with a healthcare sector focus are a great fit to Accscient's core capabilities. The transaction supports a key trend in the M&A environment related to IT sector that there is a strong demand for cloud related capabilities among acquirers."
George Shea, FOCUS Partner and IT Team Co-Leader added, "We are pleased to have found a company of A2U's caliber for our client. A2U is the fastest growing technology company in Pittsburgh and a national leader in healthcare IT, one of Accscient's key verticals. The firm's breadth of services—from IT consulting and managed services to cloud consulting and  infrastructure solutions---maps well with our client's growth plans."
*These testimonials may not be representative of the experience of all clients; testimonials are not a guarantee of future performance or success. 
About FOCUS Investment Banking LLC
With more than three decades of experience, FOCUS Investment Banking is a trusted name in M&A advisory services worldwide. FOCUS works to understand each client's strategic and financial objectives, craft the best plan to achieve these goals, and deliver success. Whether helping to sell, buy, or raise capital, FOCUS strives to maximize the value of every transaction to the benefit of its clients. Securities transactions conducted by FOCUS Securities LLC, an affiliated company, registered Broker Dealer member FINRA/SIPC. For more information on FOCUS and its IT practice, please visit www.focusbankers.com/technology.
Inside the Deal
Deal Type
Client(s)
FutureTech Holding Company
Norcross, GA, U.S.A.
Transaction Partner(s)
A2U
Cranberry Township, PA, U.S.A.
FOCUS Teams Involved