Middle Market Investment Banking Firm FOCUS LLC Represents Core180, Inc. in Acquisition of Their Government Business by Harris Corporation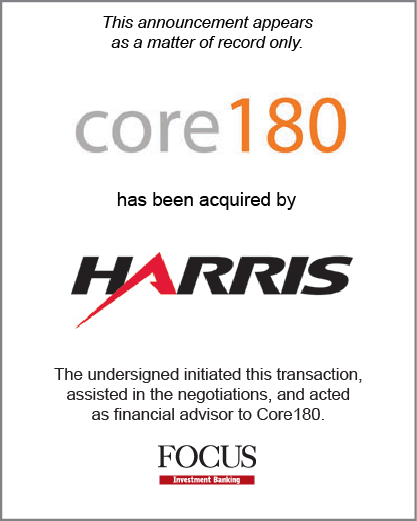 Washington, DC (April 4, 2011) – FOCUS LLC, a national middle market investment banking firm providing merger, acquisition, divestiture and corporate finance services announced that key infrastructure assets of the government business of Core180 Inc. have been acquired by Harris Corporation (NYSE: HRS). FOCUS represented Core180 in the transaction.
Based in Fairfax, Virginia, Core180 is a telecom network integrator that provides wide area networks and management services to government agencies, large enterprises, telecom carriers and systems integrators.
Harris Corporation, headquartered in Melbourne, Florida, is an international communications and information technology company serving government and commercial markets in more than 150 countries. Specifically, Harris acquired Core180's proprietary Network as a Service (NaaS) platform which will enable customers to extend their networks without additional capital or operational expenses, providing more network choices while lowering upfront investments. The acquired infrastructure will become part of Harris CapRock Communications, a premier global provider of managed satellite and terrestrial communications solutions for remote and harsh environments, including energy, government and maritime markets. The acquisition will allow Harris CapRock to expand the firm's network infrastructure and its ability to offer fully managed, end-to-end communication services to both government and commercial customers.
As a result of this process, certain commercial business assets were spun off to a new entity Core180 Direct, which supports commercial customers in several industries including the motion picture post production space.
Doug Rodgers, CEO of FOCUS commented, that "the value created since the founding of Core180, a brief five years ago, is exceptional." Rich Pierce, leader of the FOCUS Telecom Technology and Services Group, noted that the transaction demonstrates that the federal telecom market is a fertile space which can lead to exceptional growth and exit opportunities.
About FOCUS LLC
FOCUS LLC provides a range of middle market investment banking services with an emphasis on mergers, acquisitions, divestitures and corporate finance. FOCUS is a national firm serving clients from offices in major cities across the United States. FOCUS specializes in business units with transactions or revenues in the $5-300 million range, serving entrepreneurs, corporate owners and various types of investors across a broad range of industries, throughout the U.S. and worldwide. FOCUS bankers are seasoned operating and financial executives with extensive transaction experience. Securities transactions conducted by FOCUS Securities LLC, an affiliated company, registered Broker Dealer member FINRA/SIPC. For more information on FOCUS, visit www.focusbankers.com.
Inside the Deal
Deal Type
Client(s)
Core180 Inc.
Fairfax, VA, U.S.A.
Transaction Partner(s)
Harris Corporation
Melbourne, FL, U.S.A.
FOCUS Teams Involved
FOCUS Teams Involved