FOCUS Investment Banking Represents ARCH Global Precision LLC in its Acquisition of Morsch Machine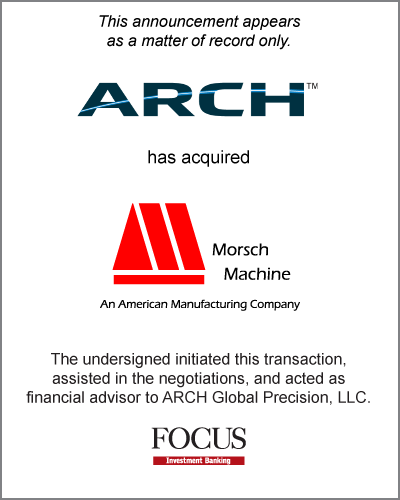 Washington, DC, (March 2, 2021) – FOCUS Investment Banking ("FOCUS"), a national middle market investment banking firm providing merger, acquisition, divestiture and corporate finance services, announced today that ARCH Global Precision, LLC, a consolidated contract manufacturing company based in Bloomfield Hills, Michigan, has acquired Morsch Machine, a Chandler, Arizona-based certified precision machining firm. FOCUS represented ARCH in the transaction.
"We're excited about partnering with Morsch Machine and welcoming new team members and customers to the ARCH family," said Andy Spiering, Divisional President of the ARCH Precision Components Segment. "This important and strategic acquisition accomplishes numerous ARCH Precision Components goals, among them adding deep manufacturing capabilities, expanding capacity in mid-to high-volume work, and broadening capabilities to include structural adhesive bonding. Operationally, this acquisition allows ARCH to merge our Mesa operations with Morsch to create a collectively stronger company called ARCH – Chandler. At this location, we will elevate our service to our customers with comprehensive capabilities, including turning, 3-axis machining, 4-axis automated cell systems, 5-axis complex machining, adhesive bonding and assembly."
Joe Salontai Sr., former owner and continuing President of Morsch Machine, worked with ARCH over several years and became convinced the partnership was the right move for his company, his employees and especially his customers.
"FOCUS introduced us to ARCH four years ago and was persistent in keeping in touch over the years," he said. "They understand our industry and showed respect for the importance of entrepreneurial businesses like Morsch. While considering our future and planning for the long term, we determined this is the appropriate time to partner with a larger company that offers financial stability and expanded resources for our continued growth."
"The decision was very personal for me," Salontai added. "My sons Daniel and Joseph lead the company's day-to-day operations. It was important that the buyer be a company with core values that mirror our own and an industry reputation for excellence. When I learned that Andy Spiering, son of a former owner who sold to ARCH, leads their Precision Components Division, I knew that to be the case."
According to FOCUS Advanced Manufacturing & Automation Team Leader John Slater, "Morsch is our tenth Machining and Metalworking closing. Lots of factors go into making a successful deal, but there's always one constant – people. I come from a family of entrepreneurs and am the unflagging champion of those who have committed their lives to building great companies. Whether we are representing the seller or the buyer, our goal is to assure that the organization stays in good hands and that the people who make its success happen continue to have a good place in which to work and grow. When I first met Joe Salontai, I knew Morsch and ARCH would be a good fit. We stayed in touch, watching both Morsch and ARCH grow until the time was just right to bring them together."
About ARCH Global Precision
ARCH Global Precision, a Jordan Company platform company based in metro Detroit, manufactures high-quality cutting tools, medical instruments and implants, and precision-machined components for a range of critical applications. ARCH has dozens of facilities strategically located across the country serving the medical, aerospace, defense, energy, semiconductor, surgical robotics, and progressive industrial markets. The teams at ARCH are metalworking professionals with industry-leading tight-tolerance manufacturing expertise. ARCH provides innovative and practical solutions to the complex manufacturing challenges of its customers.
About Morsch Machine
Morsch Machine, located in Chandler, Arizona, manufactures precision-machined parts, high-quality electronic mechanical support components, enclosures, chassis and modules for the commercial aviation, defense and space industries. Morsch joins the ARCH Precision Components Segment, strengthening the company's position as a leading and expanding supplier to aerospace and defense markets worldwide. With a broad range of capabilities in 3-axis, 4-axis and 5-axis precision machining, structural adhesive bonded assembly, mechanical assembly, 3D printing and engineering CAD/CAM design support, Morsch expands and solidifies the precision-machining and manufacturing capabilities at ARCH Precision Components Segment locations across the U.S.
About FOCUS Investment Banking
With more than three decades of experience, FOCUS Investment Banking is a trusted name in middle market M&A advisory services worldwide. Whether helping to sell, buy, or raise capital, FOCUS strives to maximize the value of every transaction for the benefit of its clients. Securities transactions conducted by FOCUS Securities LLC, an affiliated company, registered Broker Dealer member FINRA/SIPC. For more information, visit www.focusbankers.com.
*These testimonials may not be representative of the experience of all clients; testimonials are not a guarantee of future performance or success.
Inside the Deal
Client(s)
ARCH Global Precision LLC
Bloomfield Hills, MI, U.S.A.
Transaction Partner(s)
Morsch Machine
Chandler, AZ, U.S.A.
FOCUS Teams Involved