FOCUS Investment Banking Represents ADDvantage in Acquisitions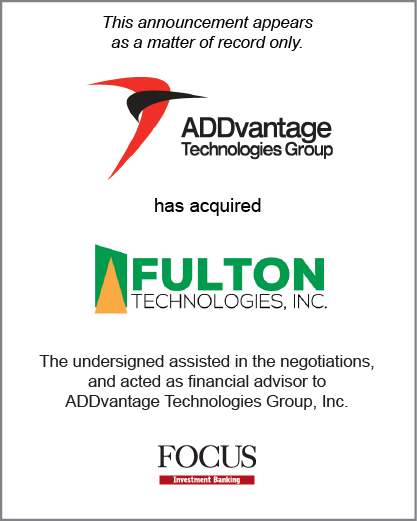 Washington, DC, (January 14, 2019) – FOCUS Investment Banking, a national middle market investment banking firm providing merger, acquisition, divestiture, and corporate finance services, announced today that ADDvantage Technologies Group, Inc. ("ADDvantage Technologies") has acquired the assets of Fulton Technologies, Inc. and Mill City Communications, Inc. (together "Fulton Technologies").  FOCUS represented ADDvantage Technologies in the transaction.
ADDvantage Technologies (NASDAQ: AEY) supplies the cable television (Cable TV) and telecommunications industries with a comprehensive line of new and used system-critical network equipment and hardware from a broad range of leading manufacturers. The equipment and hardware ADDvantage Technologies distributes is used to acquire, distribute, and protect the communications signals carried on fiber optic, coaxial cable and wireless distribution systems, including television programming, high-speed data (Internet) and telephony.
Fulton Technologies provides turn-key wireless infrastructure services, such as the installation and decommissioning of equipment on cell sites, for wireless carriers, national integrators and equipment manufacturers supporting the wireless carriers.
Joe Hart, Chief Executive Officer of ADDvantage Technologies, stated "Closing the acquisition of Fulton Technologies marks our entry into the wireless infrastructure services market, an area that is expected to see meaningful growth as 5G is rolled out throughout the U.S. over the next several years. Fulton has existing multi-year service contracts with major U.S. carriers and OEMs to assist with the planned rollout, which should serve to broaden our operations in the Telco segment and drive revenue growth at ADDvantage Technologies. This acquisition further expands the existing footprint of ADDvantage Technologies that comes from its Nave Communications and Triton Datacom businesses, which are primarily East-coast focused, and establishes a major presence throughout the central region of the U.S., from North to South."
Rich Pierce, a Managing Director at FOCUS and Telecommunications Team Leader, comments, "This is the third buy-side transaction that we have completed for ADDvantage Technologies, and each acquisition has provided them with an entrée into a new market segment.  In this case, ADDvantage Technologies has acquired a strong platform in a market segment that should see significant growth as wireless operators upgrade their networks to accommodate rapidly increasing volumes of data traffic.  We were delighted to play a role in assisting ADDvantage Technologies with successfully completing this transaction."
*These testimonials may not be representative of the experience of all clients; testimonials are not a guarantee of future performance or success.
About FOCUS Investment Banking LLC
With more than three decades of experience, FOCUS Investment Banking is a trusted name in M&A advisory services worldwide.  FOCUS works to understand each client's strategic and financial objectives, craft the best plan to achieve these goals, and deliver success.  Whether helping to sell, buy, or raise capital, FOCUS strives to maximize the value of every transaction to the benefit of its clients. Securities transactions conducted by FOCUS Securities LLC, an affiliated company, registered Broker Dealer member FINRA/SIPC. For more information on FOCUS, visit www.focusbankers.com.
Inside the Deal
Client(s)
ADDvantage Technologies Group, Inc.
Broken Arrow, OK, U.S.A.
Transaction Partner(s)
Fulton Technologies, Inc.
Roselle, IL, U.S.A.
FOCUS Teams Involved