BMS Holding S.A. has acquired BMS and BOCS with a Senior Secured Debt Facility from Dexia FOCUS Enterprises Initiated the LMBO and Acted as Advisor to Client and Lead Arranger of the transaction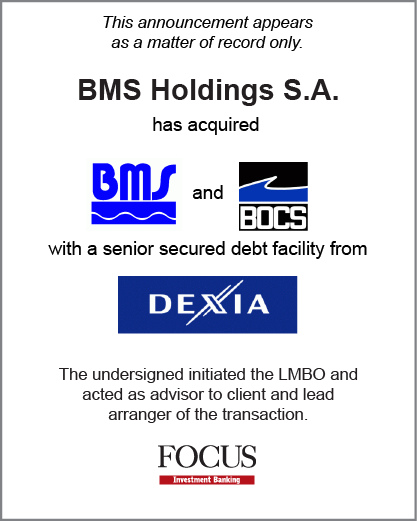 Washington, DC (October 5, 2006) - FOCUS Enterprises, Inc., a national middle market investment banking firm with a global reach providing merger, acquisition, and corporate, structured and project finance services, announced it acted as the Advisor to BMS Holdings S. A. and Lead Arranger in its Leveraged Management Buyout of BOCS and BMS. The transaction, which was closed on August 21st, 2006, was financed with a debt facility from Dexia Bank. Details of the transaction were not disclosed.
"FOCUS has seasoned investment bankers with extensive strategic experience in the dry bulk shipping market and the marine industry. They set aggressive yet realistic expectations in creating and executing upon the optimal capital formation strategy for their clients," said Randy Janey, Managing Director and CEO of BOCS and BMS.
About BOCS and BMS (the "Company"): The Company was established in 1974 in Antwerp, Belgium with "Belgian Overseas Chartering and Shipping N.V." (BOCS), acting as the exclusive agent for "Breakbulk Marine Services Ltd." (BMS) the operating company based in Guernsey, of the Channel Islands. For the past three decades, shippers have found the Company to be the most reliable way to move cargo. The Company has been involved as owner, operator, and stevedore; and operates Dry Bulk vessels from 15,000 to 80,000 Dead Weight Tons globally, while supplying the full logistic solution(s) to its customers, including, but not limited to Cargill and Dangote. The Company is led by Randy Janey, the Managing Director and CEO. For more information, go to www.bocs.info.
About Dexia Bank: Dexia was born out of the 1996 alliance between two major European banks in public finance: Crédit Local in France and Crédit Communal in Belgium. Dexia was one of the first cross-border mergers in the European banking sector, which ranks today amongst the fifteen largest banking groups of the European Union and with a net operating income over 2 Billion Euros. A world leader in public and project finance, Dexia operates in over 26 countries. Size, innovation, expertise and a long-term view are the key ingredients of Dexia's success. Dexia's success lies not only in its renowned franchise and distribution skills, but also in its ability to conceive efficient products and develop innovative solutions to the financial requirements of its clients. For more information, go to www.dexia.com.
About FOCUS Enterprises, Inc.
FOCUS Enterprises, Inc., founded in 1982 in Washington, DC, provides a range of investment banking services tailored to the needs of middle market businesses. Today the firm serves clients from offices in major cities across the United States and worldwide. FOCUS specializes in transactions for entities with up to $300 million in revenues, serving entrepreneurs, corporate owners, and investors across a broad range of industries. As of August 2006, FOCUS has 24 investment banking professionals in its four offices in Atlanta, Chicago, San Francisco, and Washington, DC advising existing customers globally. The BMS and BOCS transaction was led by Gianpiero (JP) Balestrieri, Partner and Global Head, Structured & Project Finance, who is currently serving clients in the marine transportation, energy, oil & gas, infrastructure, IT/integration, retail and financial services sectors.