FOCUS Investment Banking Represents Nokian Tyres' Vianor Stores in the USA in a Sale to Gill's Point S Tire & Auto Service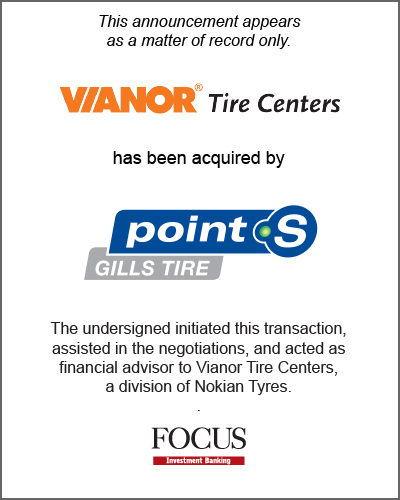 Washington, DC, (September 17, 2020) — FOCUS Investment Banking, a national middle market investment banking firm providing merger, acquisition, divestiture, and corporate finance services, with a specialty in the automotive aftermarket, announced today that Nokian Tyres company-owned Vianor Stores in New England have been acquired by Gill's Point S Tire & Auto Service. FOCUS represented Nokian Tyres in this transaction.
Operating ten stores in New Hampshire, Vermont, New York and Massachusetts, Vianor has been a quality provider of auto services and tires in the USA since 2007. Going forward, Vianor will focus on operating its own service centers in the Nordic countries and do business with partner-owned Vianors in Central Europe, Eastern Europe and Russia.
Michael McGregor FOCUS' Automotive Team Leader, said "We are big believers in tire manufacturers owning controlled distribution to build market share, so when we were tasked with this divestiture, a primary objective was keeping and growing the Nokian Tyres brand share in the USA. We are happy to have played a small part in strengthening the Nokian Tyres brand with a retailer that is committed to doing just that."
Rick Thomas, CEO of FOCUS, added, "It was a pleasure working with the Nokian Tyres team in Finland and Eric Gill & his team at Gill's Point S Tire on this cross- border transaction. Increasingly, we find ourselves assisting international clients looking to make acquisitions in the US or divesting assets here or abroad. Cross-border deals represent roughly a quarter of FOCUS' closed transactions over the last decade."
Inside the Deal
Client(s)
Nokian Tyres
Nokia, Finland
Vianor Tire Centers
North Adams, MA, U.S.A.
Transaction Partner(s)
Gills Point S Tire & Auto Service
The Dalles, OR, U.S.A.
FOCUS Teams Involved