Tire Works has been acquired by GB Auto Service, Inc. a portfolio company of Greenbriar Equity, L.P.
This announcement appears as a matter of record only

has been acquired by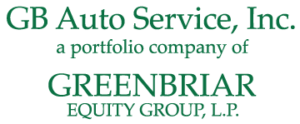 The undersigned initiated this transaction, assisted in the negotiations, and acted as financial advisor to Tire Works.
a member of

Securities transactions conducted by FOCUS Securities LLC, an affiliated company, registered broker dealer and member FINRA/SIPC.