FOCUS Investment Banking Arranges Financing for VfD Technologies Acquisition of Isimac Machine Company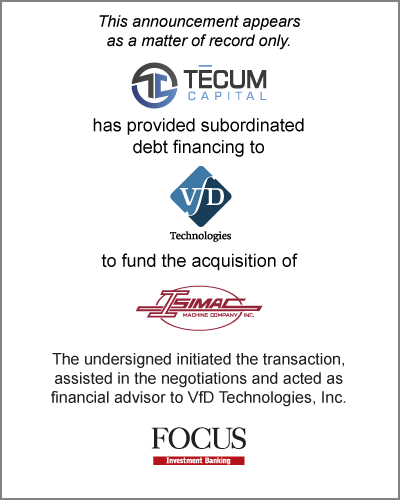 Vienna, VA (November 5, 2020) – FOCUS Investment Banking ("FOCUS"), a national middle market investment banking firm providing merger, acquisition, divestiture and corporate finance services announced today that VfD Technologies, Inc. ("VfD") has obtained subordinated debt financing from Tecum Capital to fund its acquisition of Isimac Machine Company, Inc. ("Isimac"). The FOCUS' Advanced Manufacturing & Automation Team represented VfD in the transaction.
"VfD has funded its prior acquisitions with management and board equity and prudent use of bank leverage. Acquiring Isimac was a major step for the company, requiring capital beyond our capacity based on internal resources and traditional bank debt. FOCUS introduced us to a number of subordinated and mezzanine debt providers, giving us good options to complete the process", says Patrick Thornton, VfD CFO. "We chose Tecum in part because of their deep knowledge of precision manufacturing as well as their Pennsylvania roots. It turned out to be a great choice. COVID19 disrupted the timing of the deal and Tecum stuck with us throughout, honoring their original commitment and overcoming the various obstacles we faced due to the pandemic."
Stephen Gurgovits, Jr., Managing Partner of Tecum, stated, "VfD is an opportunity for Tecum to get back to its roots of backing experienced management teams. The VfD Team has a demonstrated track record of creating both organic and acquisitive growth opportunities while instituting operational excellence across the business units. Tecum is excited to support VfD's next stage of development." Regarding Tecum's relationship with FOCUS, he added, "We value the FOCUS team's nuanced advisory approach and its relationships with high-quality businesses across our core industries. We're thrilled to work with them in support of VfD's continued growth."
FOCUS Managing Director Fred Rock shared, "We've worked closely with Tecum for a number of years and knew them to be very competent and knowledgeable in the precision manufacturing space. VfD is a great company and we were confident that they would be the type of firm with which Tecum would want to do business. As a Pennsylvania native, I was glad we could match VfD with such a strong 'home team' player."
*These testimonials may not be representative of the experience of all clients; testimonials are not a guarantee of future performance or success.
About FOCUS Advanced Manufacturing & Automation
The FOCUS Advanced Manufacturing & Automation Team provides merger and acquisition and capital raising services to the U.S. advanced manufacturing industry, with a particular focus on privately owned service manufacturers and professional services organizations in precision machining and metalworking, additive manufacturing, electronics, medical devices, advanced materials and automation/Industry 4.0. FOCUS believes these firms provide the basis for a U.S. manufacturing resurgence that has been underway for some time but has been dramatically accelerated by COVID-19. These firms produce the components and technologies that enable U.S. manufacturers to compete effectively against ever-increasing global competition.
FOCUS's white paper outlining the dynamics favoring increasing consolidation in the precision machining industry can be downloaded at this link. For more information contact John Slater at john.slater@focusbankers.com.
About VfD Technologies, Inc.
Founded in 2008, VfD is a technology driven precision manufacturer that enables the world's leading companies to bring their products to market. The Company excels in high-complexity, high-tolerance machining for medical device, automation and robotics, and transportation applications. Headquartered in Bethlehem, PA, VfD has 215 employees and operates in four manufacturing locations. For more information, please visit www.vfdtechnologies.com.
About Tecum Capital
Tecum Capital Partners is an independent investment firm based in Pittsburgh, Pennsylvania that has invested over $650 million in over 100 platform and add-on acquisitions since its founding in 2006. Tecum is a multi-strategy investor and is currently investing out of its second SBIC Fund. The investment team partners with independent sponsors, family offices, business owners seeking succession plans, and management teams to create shared success. Tecum specializes in growth-oriented, middle market companies across the broader high-value manufacturing, value-added distribution, and business service sectors, with a focus on businesses with EBITDA greater than $2 million. Tecum seeks to invest $5 million to $20 million in potential portfolio companies. For more information, please visit www.tecum.com.
Inside the Deal
Deal Type
Corporate Finance
Client(s)
VfD Technologies, Inc.
Bethlehem, PA, U.S.A.
Transaction Partner(s)
Tecum Capital
Pittsburgh, PA, U.S.A.
FOCUS Teams Involved