FOCUS Investment Banking Represents Tectrol in Business Sale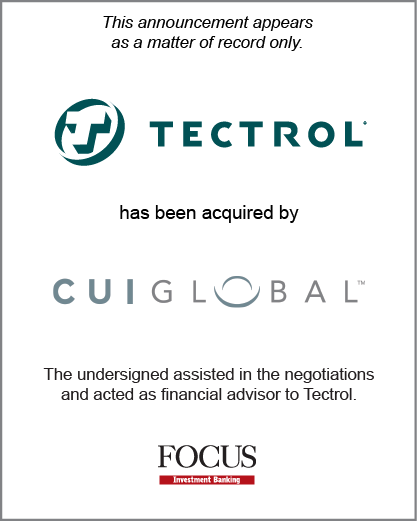 Washington, DC (March 13, 2015) – FOCUS Investment Banking, a national middle market investment banking firm providing merger, acquisition, divestiture and corporate finance services announced today that Tectrol, Inc. has been acquired by CUI Global, Inc. (NASDAQ:CUI).  FOCUS represented Tectrol in the transaction.
Tectrol, a family-owned, Toronto, Canada based company, founded in 1968 is a leading designer and manufacturer of standard and custom power solutions.  For more than 40 years, the company has been one of the most flexible and most respected providers of power products with the unique ability to accommodate design challenges for low, medium and high volume applications.  Its customer list includes some of the most iconic electronic, networking, medical and technology companies in the world.
The acquisition will greatly expand CUI's power product portfolio along with its engineering and manufacturing capabilities.  Already a leader in the digital power space, the Tectrol line will add a standard portfolio of high-density, high efficiency ac & dc power supplies ranging from 200 W to 3000 W along with modified-standard and custom capabilities.  The acquisition will also significantly boost CUI's power design and manufacturing resources with the addition of Tectrol's advanced 74,000 sq. ft. Toronto facility.
CUI's President, Matt McKenzie commented, "We believe this transaction is a step forward for our company as we look to deliver our customers the most advanced power solutions from the ac front-end all the way to the dc point of load.  We are very excited about the synergies between the companies and are confident that the integration will immediately enhance the capabilities of our Power group."
The lead FOCUS bankers were Eric Oganesoff and Jim Hawkins.
*These testimonials may not be representative of the experience of all clients; testimonials are not a guarantee of future performance or success.
About FOCUS LLC
FOCUS LLC provides a range of middle market investment banking services with an emphasis on mergers, acquisitions, divestitures and corporate finance. FOCUS is a national firm serving clients from offices in major cities across the United States.  FOCUS specializes in business units with transactions or revenues in the $5-300 million range, serving entrepreneurs, corporate owners and various types of investors across a broad range of industries, throughout the U.S. and worldwide. FOCUS bankers are seasoned operating and financial executives with extensive transaction experience. Securities transactions conducted by FOCUS Securities LLC, an affiliated company, registered Broker Dealer member FINRA/SIPC. For more information on FOCUS, visit www.focusbankers.com.
Inside the Deal
Client(s)
Tectrol
Toronto, ON, Canada
Transaction Partner(s)
CUI Global
Tualatin, OR, U.S.A.
FOCUS Teams Involved
FOCUS Teams Involved