FOCUS Investment Banking Represents Smiths Machine, LLC In Its Acquisition by ARCH Global Precision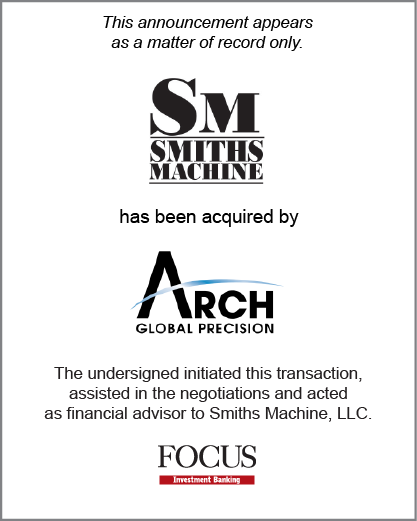 Washington, DC (August 28, 2015) – FOCUS Investment Banking LLC, a national middle market investment banking firm providing merger, acquisition, divestiture and corporate finance
services announced today that Smiths Machine has been acquired by ARCH Global Precision. FOCUS represented Smiths Machine in the transaction.
Smiths Machine, located in Cottondale, Alabama, manufacturers high precision machine components for the defense, missile, space and energy markets.
ARCH Global Precision, a Strength Capital Partners platform company, located in Livonia, Michigan, is focused on precision machined components, cutting tools and instruments. ARCH has grown rapidly through a serious of acquisitions since its founding in 2011 and has expressed its goal to become a national leader in precision machining through additional targeted acquisitions as well as internal revenue growth.
According to Tim Smith, Vice President of Smiths Machine, "Selling a family owned business can be complex and emotionally taxing. Our advisors, FOCUS Investment Banking, ran a very thorough process and identified a great deal of interest in Smiths among both strategic and private equity buyers. I am excited that Smiths will be joining ARCH Global Precision and look forward to further enhancing the business that was started by my father in 1974."
John Slater, FOCUS Partner, noted, "This was a complex and time sensitive transaction. We were blessed with a great client that has built a superior business. We are proud to have had the opportunity to be of service to this great family and team."
About FOCUS Investment Banking LLC
FOCUS Investment Banking, LLC provides a range of middle market investment banking services with an emphasis on mergers, acquisitions, divestitures and corporate finance. FOCUS, a national firm serving clients from offices in major cities across the U.S., specializes in business units with transactions or revenues in the $5-300 million range, serving entrepreneurs, corporate owners and various types of investors across a broad range of industries both domestically and worldwide. FOCUS bankers are seasoned operating and financial executives with extensive transaction experience. Securities transactions conducted by FOCUS Securities LLC, an affiliated company, registered Broker Dealer member FINRA/SIPC. For more information on FOCUS and its Government, Aerospace & Defense practice, visit www.focusbankers.com/GAD.
Inside the Deal
Deal Type
Client(s)
Smiths Machine, LLC
Cottondale, AL, U.S.A.
Transaction Partner(s)
ARCH Global Precision LLC
Bloomfield Hills, MI, U.S.A.
FOCUS Teams Involved