FOCUS Investment Banking Represents Neuralify in their Sale to ISG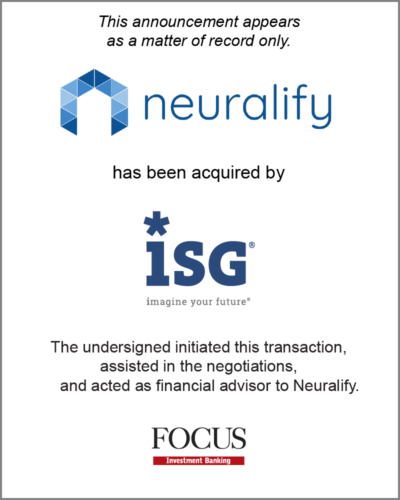 Washington, DC, (July 15, 2020)— FOCUS Investment Banking, a national middle market investment banking firm providing merger, acquisition, divestiture, and capital raising services, announced today that Neuralify, LLC has been acquired by Information Services Group, Inc. (Nasdaq: III), a leading global technology research and advisory firm.  The acquisition will combine Neuralify's SaaS-based digital enablement platform with the broad portfolio of intelligent automation solutions offered by ISG Automation, a unit of ISG.
Robotic Process Automation (RPA) is one of the fastest-growing tools for enterprise digital transformation.  Organizations use RPA to automate routine repetitive tasks, such as filling out digital forms to capture customer information, freeing their team for more value-add activities.  The Neuralify digital enablement platform pushes the creation of software "bots" to the "owners" of critical processes who are best positioned through their operating knowledge and experience to create efficient process automation tools.
Neuralify has developed a market leading, cloud-based enablement platform for training users in the use of RPA tools and supporting user organizations in managing the deployment of software bots throughout the organization.  ISG Automation is a recognized global leader in guiding clients through the hurdles of RPA adoption, ensuring the optimal future state with best-fit technologies.
Neuralify co-founder, Peter Kirkman summarized the sale process as follows. "Neuralify created world-class RPA enablement and analysis tools, used by some of the largest companies in the world.  We operate in a global market and realized that, to take the company to the next level, we needed to be part of a larger company with substantially greater resources.  We chose FOCUS to assist us in finding the right partner because of its history of success in strategic sale mandates and the strength of the team it brought to the project.  They conducted a thorough search of the market, identifying numerous highly qualified acquirers even as the market was roiled by the early stages of COVID19.  FOCUS helped us craft a win-win with ISG, one of the world's leaders in our industry."
The FOCUS Advanced Manufacturing & Automation Team provides merger and acquisition and capital raising services to companies creating and utilizing the tools of automation and digital transformation. The application of digital intelligence to real world interactions is transforming industry and commerce at an ever-increasing rate.
Inside the Deal
Client(s)
Neuralify, LLC
Concord, MA, U.S.A.
FOCUS Teams Involved
FOCUS Teams Involved