FOCUS Investment Banking Represents ncgCARE in its Acquisition of Both Carolina Outreach and Therapeutic Interventions
Atlanta, GA, (December 18, 2018) – FOCUS Investment Banking, a national middle market investment banking firm providing merger, acquisition, divestiture, and corporate finance services, announced today that ncgCARE has acquired Carolina Outreach and Therapeutic Interventions. FOCUS represented ncgCARE in these two transactions.
ncgCARE, based in Virginia, is a national network of provider partners in behavioral healthcare. With nearly 2,000 employees across multiple partner companies, ncgCARE has provided behavioral health services for over 40,000 individuals and families. The ncgCARE partner network includes National Counseling Group, Turning Point Family CARE, Avenues to Wellness, Envision Counseling, Starlight Behavioral Health, Grace Harbour Behavioral Health,  and Appalachian Community Services.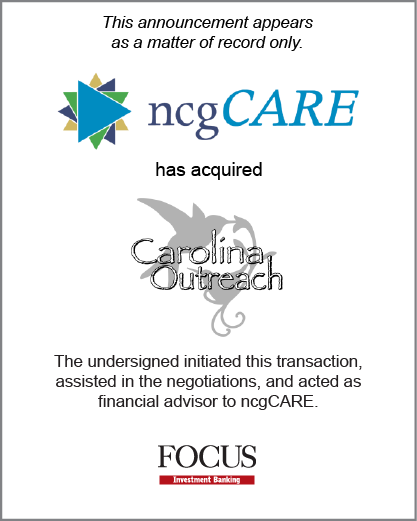 Carolina Outreach, headquartered in Durham, NC, provides high quality mental health services across the state of North Carolina with a goal of ensuring that all children receive services that will help promote a higher quality of life for the child and his or her family. Carolina Outreach focuses on a families-first approach, where in-home, strengths-based services help families become more self-sufficient while remaining intact.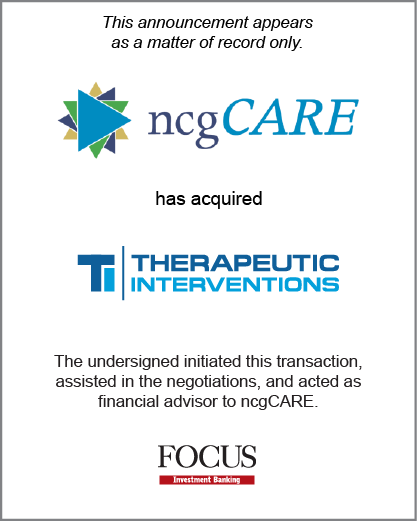 Therapeutic Interventions, located on the Eastern Shore of Virginia, builds better communities by empowering consumers and maximizing their social, emotional and academic potential. They work to enhance academic performance, problem solving, conflict resolution and anger management skills. Their primary emphasis is collaboration, as a team, with the family, school and community.
Frank Viera, President and CEO of ncgCARE, commented, "We are thrilled to have both the Carolina Outreach and Therapeutic Interventions teams join the expanding ncgCARE network.  Both organizations have a strong commitment to high quality, evidence-based treatment that made these acquisitions natural fits."
Added Michael McGregor, FOCUS Managing Director, "I've known Tim Brooks and Tom Reid of Carolina Outreach for about seven years now and have always been impressed with their mission, core beliefs and the quality organization that they have built.  Likewise, Marion Long and the team at Therapeutic Interventions have been the high-quality provider on the eastern shore of Virginia for many years. We are happy to have played a small part in bringing all of these wonderful people together.
*This testimonial may not be representative of the experience of all clients; testimonials are not a guarantee of future performance or success.
About FOCUS Investment Banking
With more than three decades of experience, FOCUS Investment Banking is a trusted name in M&A advisory services worldwide.  FOCUS works to understand each client's strategic and financial objectives, craft the best plan to achieve these goals, and deliver success.  Whether helping to sell, buy, or raise capital, FOCUS strives to maximize the value of every transaction to the benefit of its clients. Securities transactions conducted by FOCUS Securities LLC, an affiliated company, registered Broker Dealer member FINRA/SIPC. For more information on FOCUS and its Healthcare and Life Sciences practice, visit www.focusbankers.com/health.
Inside the Deal
Client(s)
ncgCARE
Richmond, VA, U.S.A.
Transaction Partner(s)
Carolina Outreach
Durham, NC, U.S.A.
FOCUS Teams Involved