FOCUS Investment Banking Represents ncgCARE in its Purchase of Appalachian Community Services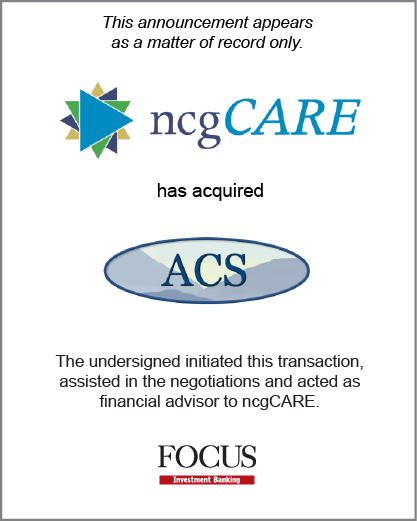 Atlanta, GA, (July 6, 2017) – FOCUS Investment Banking, a national middle market investment banking firm providing merger, acquisition, divestiture, and corporate finance services, announced today that ncgCARE has acquired Appalachian Community Services. FOCUS represented ncgCARE in the transaction.
ncgCARE, based in Virginia, is a national network of provider partners in behavioral healthcare. With over 1,500 employees across multiple partner companies, ncgCARE has provided behavioral health services for over 40,000 individuals and families.  The ncgCARE partner network includes National Counseling Group, Turning Point Family CARE, Avenue to Wellness and Envision Counseling.
Appalachian Community Services, headquartered in Murphy, North Carolina, provides mental health, substance abuse, and intellectual and developmental services to children, adolescents and adults. ACS sees over 6,500 clients per year and employs over 260 mental health professionals.
Frank Viera, President and CEO of ncgCARE, commented, "We are thrilled to have the Appalachian Community Services team join the expanding ncgCARE network.  The synergies of our missions and visions were evident from the beginning.  Both organizations have a strong commitment to high quality, evidence-based treatment that made this acquisition a natural.  In addition, the strong relationships that ACS enjoys in their community, in particular with VAYA Health and the local hospital and medical community, allow ACS to be an innovator in the development of community programming.  We have already been providing services in North Carolina, however, with the addition of ACS, ncgCARE is now positioned as one of the largest behavioral health providers in the state allowing us to provide services to more people in need. "
Added Michael McGregor, FOCUS Managing Director, "Having known the leadership at ACS for close to 6 years, we knew that ACS would be a great fit for ncgCARE.  ACS has learned how to provide rural, mountainous communities with quality behavioral health care and we expect both organizations will share best practices to improve outcomes for the benefit of all the communities they serve."
*This testimonial may not be representative of the experience of all clients; testimonials are not a guarantee of future performance or success.
About FOCUS Investment Banking
With more than three decades of experience, FOCUS Investment Banking is a trusted name in M&A advisory services worldwide.  FOCUS works to understand each client's strategic and financial objectives, craft the best plan to achieve these goals, and deliver success.  Whether helping to sell, buy, or raise capital, FOCUS strives to maximize the value of every transaction to the benefit of its clients. Securities transactions conducted by FOCUS Securities LLC, an affiliated company, registered Broker Dealer member FINRA/SIPC. For more information on FOCUS and its Healthcare and Life Sciences practice, visit www.focusbankers.com/health.
Inside the Deal
Deal Type
Client(s)
ncgCARE
Richmond, VA, U.S.A.
Transaction Partner(s)
Appalachian Community Services (ACS)
Murphy, NC, U.S.A.
FOCUS Teams Involved