FOCUS Investment Banking Represents Medvance Ltd. in Acquisition by NAMSA FOCUS closes another international deal in the healthcare industry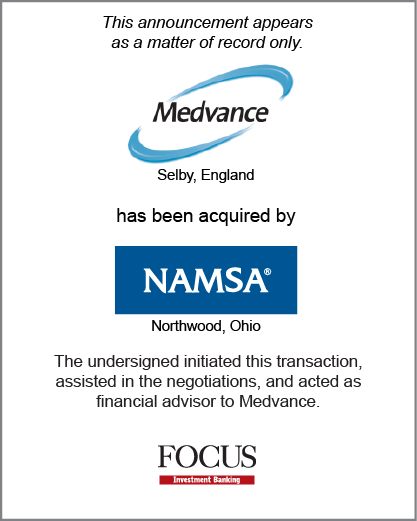 Washington, DC (January 7, 2014) FOCUS, a national middle market investment banking firm providing merger, acquisition, divestiture and corporate finance services, announced that its client, Medvance Ltd., has been acquired by NAMSA. FOCUS represented Medvance in the transaction, adding another international deal to its list of completed 2013 transactions.
Medvance, based in Yorkshire, England, is a full service contract research organization specializing in medical devices, in-vitro diagnostics and combination products. For 16 years Medvance has been helping medical device companies provide patients with quality medical technology that improves health and quality of life.
NAMSA, based in Ohio, USA, is a global medical research organization providing expert regulatory, laboratory, clinical and compliance services to medical device manufacturers. For nearly 50 years, NAMSA clients have utilized its testing and consulting services to bring safe and effective products to market.
According to Janette Benaddi, Medvance's CEO, "Medvance will benefit from NAMSA's deep expertise in biostatistics as well as their material scientists and biocompatibility experts."
Gerald Turner, FOCUS Managing Director, commented, "This transaction is part of a secular trend towards international combination in the CRO market – one on which FOCUS is able to bring to bear its considerable experience working with CROs."
FOCUS Managing Director, Jim Hawkins added, "We are delighted to have played a strategic role in bringing these two outstanding companies together in a transaction where the whole is certainly greater than the sum of the parts."
*These testimonials may not be representative of the experience of all clients; testimonials are not a guarantee of future performance or success.
About FOCUS LLC
FOCUS provides a range of middle market investment banking services with an emphasis on mergers, acquisitions, divestitures and corporate finance. FOCUS is a national firm serving clients from offices in major cities across the United States. FOCUS specializes in business units with transactions or revenues in the $5-300 million range, serving entrepreneurs, corporate owners and various types of investors across a broad range of industries, throughout the U.S. and worldwide. FOCUS bankers are seasoned operating and financial executives with extensive transaction experience. Securities transactions conducted by FOCUS Securities LLC, an affiliated company, registered Broker Dealer member FINRA/SIPC. For more information on FOCUS, visit www.focusbankers.com.
Inside the Deal
Client(s)
Medvance Ltd.
Yorkshire, England
Transaction Partner(s)
North American Science Associates, Inc. (NAMSA)
Northwood, OH, U.S.A.
FOCUS Teams Involved
FOCUS Teams Involved