FOCUS Investment Banking Helps JSI Receive Investment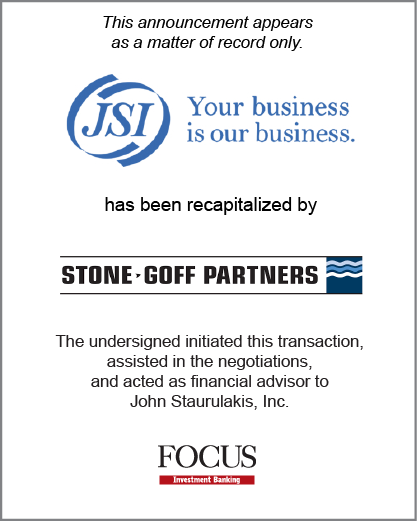 Washington, DC, (November 26, 2018) – FOCUS Investment Banking, a national middle market investment banking firm providing merger, acquisition, divestiture, and corporate finance services, announced today that John Staurulakis, Inc. (JSI) has received an investment from Stone-Goff Partners.  FOCUS represented JSI in this transaction.
JSI is the leading national provider of regulatory and compliance consulting services to over 400 telecommunications providers in rural communities across the U.S. With over 100 employees and decades of experience serving their market, JSI's deep knowledge of the telecom industry and rural broadband markets is a key differentiator benefiting its longstanding client base. In addition to being the dominant provider of regulatory and compliance services to Incumbent Local Exchange Carriers ("ILECs"), JSI also provides financial, business management and executive management training services to its client base.
Stone-Goff Partners is a private equity investment firm that acquires and builds companies in the lower middle market. Stone-Goff Partners targets companies in the Business Services and Consumer sectors.
Manny Staurulakis, President of JSI, commented, "FOCUS' knowledge of the Telecom industry  was instrumental in conveying JSI's value proposition to potential investors, and they provided us with a high level of support from the beginning of the process to the end.  We appreciated their efforts and are delighted to partner with Stone-Goff Partners as we enter our next phase of growth while also maintaining JSI's legacy as being an advocate for telecommunications providers and the rural communities they serve."
Rich Pierce, FOCUS Managing Director, stated, "JSI has built a strong business with outstanding brand recognition in the rural ILEC industry.  It was a privilege to be able to work with them on this transaction and we wish them all the best in the future as they continue to grow their business."
*These testimonials may not be representative of the experience of all clients; testimonials are not a guarantee of future performance or success.
About FOCUS Investment Banking LLC
With more than three decades of experience, FOCUS Investment Banking is a trusted name in M&A advisory services worldwide. FOCUS works to understand each client's strategic and financial objectives, craft the best plan to achieve these goals, and deliver success. Whether helping to sell, buy, or raise capital, FOCUS strives to maximize the value of every transaction to the benefit of its clients. Securities transactions conducted by FOCUS Securities LLC, an affiliated company, registered Broker Dealer member FINRA/SIPC. For more information on FOCUS and its Telecom practice, please visit www.focusbankers.com/telecom.
Inside the Deal
Client(s)
John Staurulakis, Inc.
Greenbelt, MD, U.S.A.
Transaction Partner(s)
Stone-Goff Partners
Boston, MA, U.S.A.
FOCUS Teams Involved
FOCUS Teams Involved