FOCUS Investment Banking Brokers Investment in ICS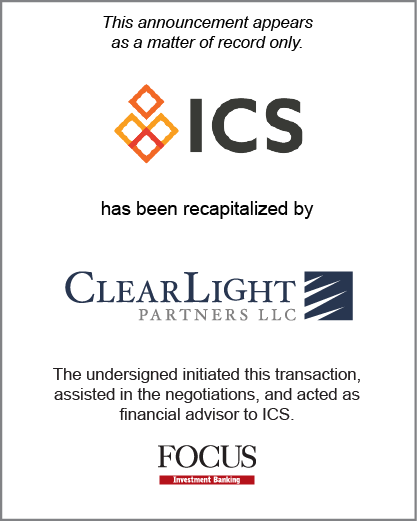 Washington, DC, (May 15, 2020)— FOCUS Investment Banking, a national middle market investment banking firm providing merger, acquisition, divestiture, and capital raising services, announced today that ICS has received an investment from ClearLight Partners. FOCUS represented ICS in the transaction and terms of the deal were not disclosed.
Founded over thirty years ago, ICS works alongside clients to develop customized solutions to meet all of their technology and telecommunications needs. ICS provides managed services including business communication, cybersecurity, compliance and cloud migration from their three offices in New York.
ClearLight Partners, a California based private equity group that focuses on helping companies grow into market leaders, was a natural fit for ICS as they look to expand their MSP business.
"ClearLight had a well-articulated thesis for the MSP industry, and it was clear very early on that ICS and ClearLight were a great match," said Kevin Blake, CEO of ICS. "I'm confident that, together, we'll build the leading Northeastern MSP whose brand is synonymous with keeping our clients ahead of technological change and cybersecurity so that they can compete more effectively within their respective industries."
"When I met Kevin Blake, it was obvious within minutes that his passion and aptitude for M&A, coupled with his network of CEO peers (who could become acquisition targets at a future date), would propel him to be among the most successful PE Platform investments in the sector.  Within hours of being introduced, ClearLight agreed, and the two are now partnered for exponential growth," said Abe Garver, Managing Director at FOCUS.
"The MSP sector remains vibrant and active during these unusual times and investors are anxious to deploy capital behind businesses that have recurring revenue in this environment. The ClearLight/ICS partnership will enable ICS to be a formidable platform in this space, and we are glad to have been part of this success story," commented, Manan Shah, Information Technology Leader at FOCUS.
About ICS
ICS is a provider of IT managed services, cybersecurity, cloud migration and other project-based services, and hardware and software reselling. The company offers on-site and remote support to customers in the Northeastern US, with an emphasis on serving customers within healthcare, financial services, professional services, manufacturing, and retail. ICS was founded in 1986 and is currently led by 20+-year industry veteran Kevin Blake. http://www.icsnewyork.com
About ClearLight Partners
ClearLight Partners is a private equity firm that specializes in management-led industry consolidations and minority/growth capital investments. Since their founding in the 1980's, they have raised three funds with $900 million of total equity capital and invested in over 20 platform companies. The firm is based in Newport Beach, CA. http://www.clearlightpartners.com
Inside the Deal
Transaction Partner(s)
ClearLight Partners LLC
Newport Beach, CA, U.S.A.
FOCUS Teams Involved