FOCUS Investment Banking Represents General Informatics in its Acquisition of Unicom Technologies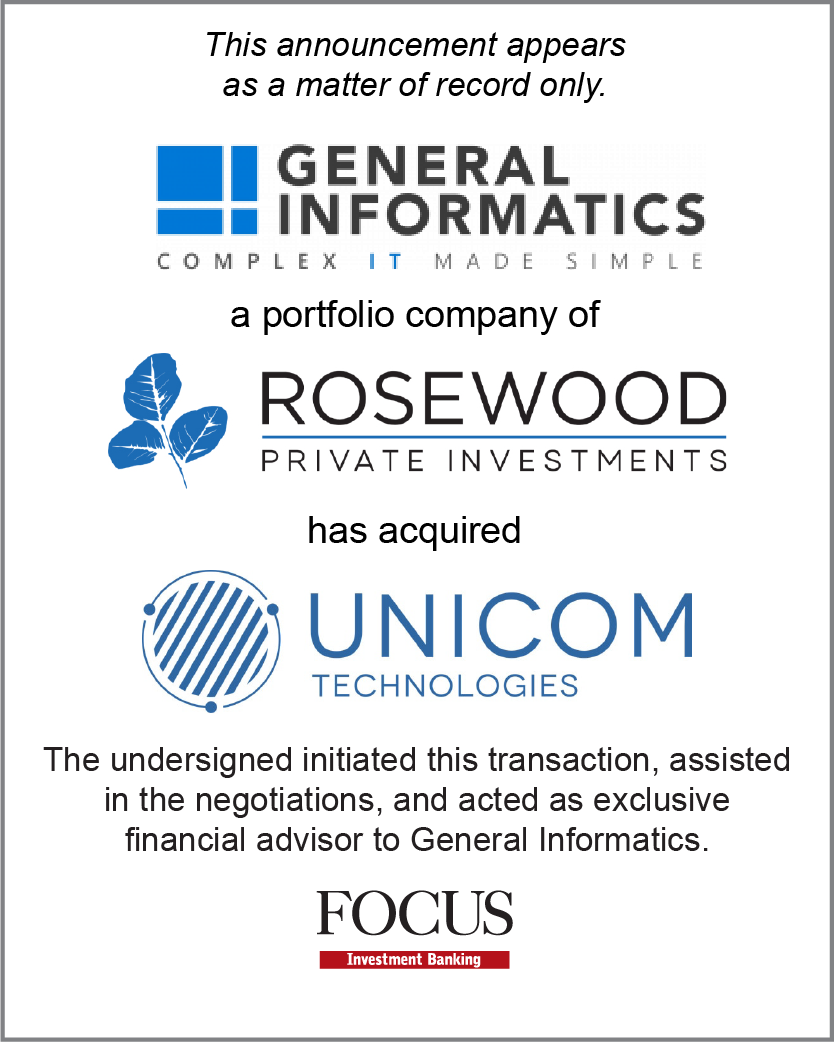 Washington, DC, (December 22, 2021) – FOCUS Investment Banking ("FOCUS"), a national middle market investment banking firm providing merger, acquisition, divestiture, and corporate finance services, announced today that General Informatics ("GI"), an IT managed services provider (MSP) and network infrastructure company, has acquired Unicom Technologies, a Texas-based MSP focusing on the banking, credit union, and financial services industries, among others. FOCUS advised General Informatics in this transaction.
"We felt like the timing was perfect for us to partner with a fast-growing, well-funded technology provider like General Informatics," said Brian Hoppe, CEO of Unicom. "We love their growth strategy and feel as if our banking expertise will serve that industry vertical incredibly well."
The purchase of Unicom fits into General Informatics' vision of continuously growing and improving technology offerings across all industries. By acquiring Unicom, General Informatics can better serve its current and future clients in Texas as well as financial institutions nationally.
"Unicom has a notable client-focused process and culture that we believe will integrate perfectly with our culture here at GI," said Don Monistere, CEO and President of General Informatics. "We are excited to begin working with the Unicom team and clients as we strengthen our offerings and geographic footprint."
In 2020, General Informatics partnered with Rosewood Private Investments ("RPI") to develop an aggressive growth plan that includes both organic and acquisitive growth. The partnership with RPI has allowed General Informatics, and now Unicom, to continue to invest in the latest technology, attract top talent, and better serve the needs of customers. General Informatics and RPI are excited about the process of continuing to build out General Informatics' and Unicom's presence in the Southeast United States.
About General Informatics
Based in Baton Rouge, LA, General Informatics is a premier IT managed services provider, delivering exceptional managed IT solutions to a diverse base of customers across the southeast United States. With a continuously growing portfolio of diverse technology services, General Informatics has helped clients realize significant growth through innovative technology deployment and exceptional service delivery. General Informatics is one of the fastest growing managed IT services providers in the Southeast and is the leading IT partner for businesses, schools, and government agencies.
About Unicom Technologies
Unicom Technologies began by serving the needs of community banks and credit unions in Texas. Over the past 30 years, it has developed a proven process and the expertise to serve a variety of businesses and industries across the country. Unicom's IT Team creates a seamless platform by tailoring services to businesses' needs and ensuring an end-to-end experience.
About FOCUS Investment Banking
With more than three decades of experience, FOCUS Investment Banking is a trusted name in middle market M&A advisory services worldwide. Whether helping to sell, buy, or raise capital, FOCUS strives to maximize the value of every transaction for the benefit of its clients.
FOCUS' Managed Service Provider (MSP) Team is one of the most active and successful in North America. In 2020 alone, FOCUS closed MSP transactions with 22 parties, including serving as advisor to five of the 10 MSP private equity platforms that were created in the U.S. as announced by Channel E2E. FOCUS's MSP Team executes on a customized strategy tailored to meet each client's objectives. We bring deep industry expertise and years of transaction experience to every engagement.
Securities transactions conducted by FOCUS Securities LLC, an affiliated company, registered Broker Dealer member FINRA/SIPC. For more information, visit https://focusbankers.com/msp/.
*These testimonials may not be representative of the experience of all clients; testimonials are not a guarantee of future performance or success.
Inside the Deal
Deal Type
Client(s)
General Informatics
Baton Rouge, LA, U.S.A.
Rosewood Private Investments
Dallas, TX, U.S.A.
Transaction Partner(s)
Unicom Technologies
Whitehouse Station, NJ, U.S.A.
FOCUS Teams Involved