FOCUS Investment Banking Represents East Coast Retina, PA in its Sale to Retina Consultants of America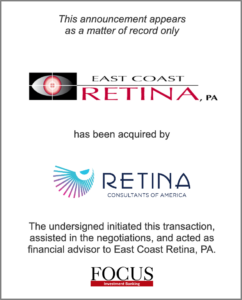 Washington, DC, (June 20, 2023) – FOCUS Investment Banking ("FOCUS"), a national middle market investment banking firm providing merger, acquisition, divestiture, and corporate finance services, announced today that East Coast Retina, PA ("The Company") has been acquired by Retina Consultants of America ("RCA"), a comprehensive physician management services organization. FOCUS managing directors Eric Yetter and Andy Snyder advised East Coast Retina in this partnership.
East Coast Retina is led by Dr. Stephen Phillips, a leading specialist in diseases and surgery of the retina. The company's clinical team has been treating retina patients in the Myrtle Beach, SC area since Dr. Phillips founded the practice in 2004.
In partnering with RCA, East Coast Retina joins other premier retina groups in a collaborative, patient-first environment.
"With Eric and Andy at FOCUS helping me through this daunting merger process, I felt confident I was in the strongest position possible," said Dr. Phillips. "Their experience, knowledge, availability and diligence made me thankful to have them by my side."
"It was a pleasure working with Dr. Phillips and his team throughout this very smooth transaction," said Eric Yetter, Managing Director and Healthcare Team Leader at FOCUS. "RCA will be a great partner for East Coast Retina and will support many of its day-to-day business functions with an eye toward further growth."
*These testimonials may not be representative of the experience of all clients; testimonials are not a guarantee of future performance or success.
Inside the Deal
Deal Type
Client(s)
East Coast Retina, PA
U.S.A.
Transaction Partner(s)
Retina Consultants of America
U.S.A.
FOCUS Teams Involved