FOCUS Investment Banking Represents Atomic Auto Body in Sale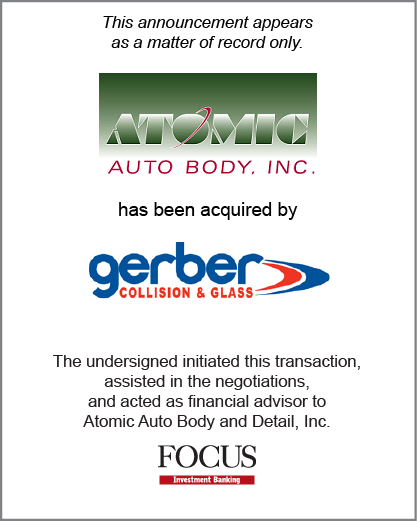 Washington, DC, (April 9, 2019) – FOCUS Investment Banking, a national middle market investment banking firm providing merger, acquisition, divestiture, and corporate finance services, with a specialty in the automotive services sector, announced today that Atomic Auto Body has been sold to Gerber Collision and Glass. FOCUS represented Atomic Auto Body in this transaction.
Operating two centers in Richland and Pasco, Washington, Atomic has been the Tri Cities' premier collision repair provider for more than 40 years. The transaction was led by FOCUS Managing Directors Rick Thomas and David Roberts.
Owner Mike Young credited Managing Director Rick Thomas for "being our partner and advisor over many years" in representing Atomic. "We had a lot of starts, stops and start-agains to finally get this deal done. Rick and Dave were with us all the way."
Managing Director Rick Thomas stated, "Mike and his folks have found the right home. We are truly excited for their future with Gerber."
*These testimonials may not be representative of the experience of all clients; testimonials are not a guarantee of future performance or success.
About FOCUS Investment Banking
With more than three decades of experience, FOCUS Investment Banking is a trusted name in middle market M&A advisory services worldwide. FOCUS works to understand each client's strategic and financial objectives, craft the best plan to achieve these goals, and deliver success. Whether helping to sell, buy, or raise capital, FOCUS strives to maximize the value of every transaction to the benefit of its clients.
The Automotive Group of FOCUS Investment Banking is dedicated to advising and representing clients in the automotive industry including collision and mechanical repairers, paint and parts distributors, tire and service centers, dealerships and related vendors. Securities transactions conducted by FOCUS Securities LLC, an affiliated company, registered Broker Dealer member FINRA/SIPC.  For more information, visit www.focusbankers.com/automotive.  Contact david.roberts@focusbankers.com or rick.thomas@focusbankers.com
Inside the Deal
Client(s)
Atomic Auto Body and Detail, Inc.
Richland, WA, U.S.A.
Transaction Partner(s)
Gerber Collision & Glass
Elmhurst, IL, U.S.A.
FOCUS Teams Involved