FOCUS Investment Banking Represents ARCH Global Precision in Acquisition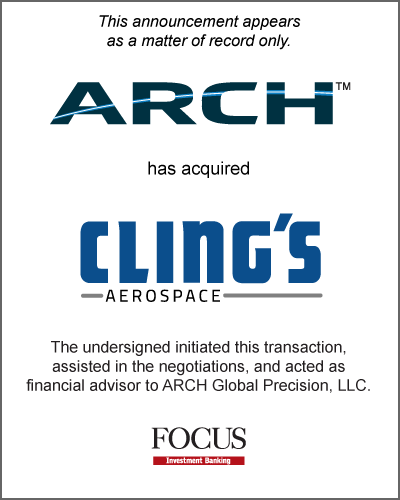 Vienna, VA (August 11, 2020) – FOCUS Investment Banking ("FOCUS"), a national middle market investment banking firm providing merger, acquisition, divestiture and corporate finance services announced today that ARCH Global Precision, LLC ("ARCH") has acquired Cling's Aerospace, LLC ("Cling's").  FOCUS represented ARCH in the transaction.
"We're excited to welcome the Cling's Aerospace team and its customers to the ARCH family," said Andy Spiering, Divisional President of the ARCH Precision Components Segment. "Cling's Aerospace is an important acquisition for ARCH, enabling us to further expand our aerospace and defense capabilities in support of our customers, and broadens our footprint in the Phoenix area to supplement our existing Mesa location. We are excited to add a company of Cling's caliber that possesses a high level of engineering expertise, as well as extensive capabilities in complex manufacturing, custom-fabricated tubing, weldments, and assemblies."
Doug Cling, former owner and President of Cling's Aerospace, worked with ARCH over several years and became convinced the partnership was the right thing to do for his company, his employees, and his customers.
"FOCUS introduced us to ARCH four years ago and was persistent in keeping in touch over the years.  They understand our industry and showed respect for the importance of entrepreneurial businesses like Cling's.  As the market continues to change and consolidate and as a number of different parties showed interest in Cling's, I ultimately chose ARCH because of their strong track record in closing on acquisitions, their presence in and knowledge of the aerospace and defense market, and their stellar reputation in the marketplace.  I am looking forward to partnering with ARCH as we mutually work to grow the business. My employees and customers can confidently anticipate the future knowing that I am committed to staying on to run the business post-closing."
According to FOCUS Advanced Manufacturing & Automation Team Leader, John Slater, "As a highly engineering focused manufacturer of complex components, Cling's is a perfect example of the high precision machining and metalworking firms that are the core of our advanced manufacturing practice.  We've now completed seven transactions in the metalworking industry and have great respect for the talent and grit that goes into building a company such as Cling's.  With uncertainty in global supply chains now top of mind, we see an increasing demand for great companies in the sector."
*These testimonials may not be representative of the experience of all clients; testimonials are not a guarantee of future performance or success.
About FOCUS Advanced Manufacturing & Automation
The FOCUS Advanced Manufacturing & Automation Team provides merger and acquisition and capital raising services to the U.S. advanced manufacturing industry, with a particular focus on privately owned service manufacturers and professional services organizations in precision machining and metalworking, additive manufacturing, electronics, medical devices, advanced materials and automation/Industry 4.0.  FOCUS believes these firms provide the basis for a U.S. manufacturing resurgence that has been underway for some time but has been dramatically accelerated by COVID-19.  These firms produce the components and technologies that enable U.S. manufacturers to compete effectively against ever-increasing global competition.
FOCUS's white paper outlining the dynamics favoring increasing consolidation in the precision machining industry can be downloaded at this link.  For more information contact John Slater at john.slater@focusbankers.com.
About ARCH Global Precision
ARCH with more than 1500 employees across its 24 business units in every major region of the country, focuses on precision machined components and precision cutting tools serving a variety of critical industries including aerospace and defense, medical, robotics and space. Since its formation, ARCH has grown rapidly both organically and through targeted acquisitions of leading entrepreneurial precision machining and cutting tools manufacturers to become a national leader in the precision machining industry.
About Cling's Aerospace
Cling's, located in Tempe, Ariz., manufactures machined parts, custom-fabricated tubes, weldments, and assemblies for the aerospace and defense industries. Cling's joins the ARCH Precision Components Segment, strengthening the company's position as a leading and growing supplier to the global aerospace and defense markets. With wide-ranging capabilities in precision tube bending, 3-axis, 4-axis and 5-axis precision machining, and welding projects along with value-added services such as engineering CAD/CAM design support, assembly, subassembly, and kitting, Cling's bolsters and augments the existing precision-machining and manufacturing capabilities at ARCH Precision Components Segment locations across the United States.
Inside the Deal
Client(s)
ARCH Global Precision LLC
Bloomfield Hills, MI, U.S.A.
Transaction Partner(s)
Cling's Aerospace, LLC
Tempe, AZ, U.S.A.
FOCUS Teams Involved