Caretek, LLC To Provide Expansion Capital for Blue Canopy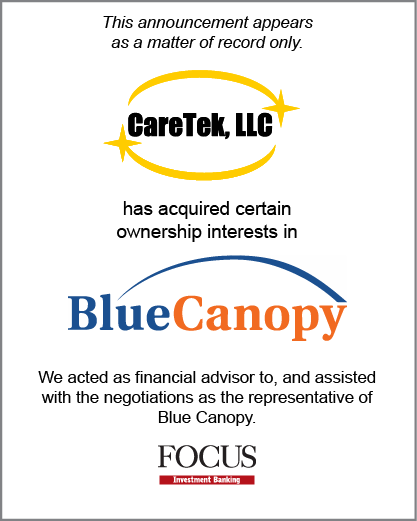 Washington, DC (September 26, 2006) - FOCUS Enterprises, Inc. announces that Blue Canopy Group has secured expansion capital to accelerate its growth. CareTek, LLC has acquired certain ownership interest in Blue Canopy and will supplement the leadership team as well as provide expansion capital. The details of the transactions, which closed September 12th, were not disclosed. Blue Canopy, a privately held company founded in 2001, is an information technology and consulting firm focused on aligning business and information technology (IT) interdependencies, employing its industry-leading 4th-party integrator (4pi™) methodology to solve the toughest problems facing the IT sector. Featured in Inc 500 as one of the fastest growing IT services companies, Blue Canopy serves both the commercial and federal sectors. Blue Canopy's customers include AOL, Capital One and Toyota on the commercial side and defense and intelligence agencies of the Federal Government.
Bradley J. Schwarz, a former Managing Partner with KPMG Consulting and former Group EVP with BearingPoint, was appointed as the company's Chief Executive Officer.
"I am very excited about being involved with Blue Canopy. The Blue Canopy leadership team has done a great job to get the company where we are today. My focus is to leverage their intellectual property and market momentum to accelerate the company's growth in both the Federal and commercial markets. We want to be known for extraordinary growth, innovation, and quality execution. Our goal is to win every "Best Partner" award possible both from our clients and our business partners. Many thanks to Focus for making this happen."
About FOCUS Enterprises, Inc.
FOCUS Enterprises, Inc. provides a range of middle market investment banking services across the U.S. with an emphasis on mergers, acquisitions, divestitures and corporate finance. FOCUS is headquartered in Washington, DC, with regional offices in Atlanta, Chicago and San Francisco. FOCUS specializes in transactions for entities with $5-300 million in revenues, serving entrepreneurs, corporate owners, and various types of investors.