FOCUS Investment Banking Represents KMS Solutions in Acquisition
Buy Side M&A Investment Banking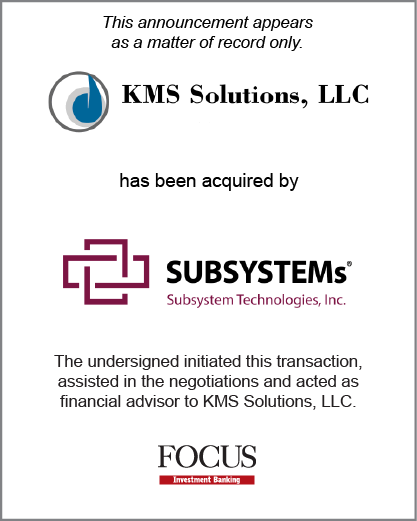 Washington, DC, (July 18, 2017) – FOCUS Investment Banking, a national middle market investment banking firm providing merger, acquisition, divestiture, and corporate finance services, announced today that KMS Solutions, LLC (KMS) has been acquired by Subsystem Technologies, Inc. (SUBSYSTEMs). FOCUS represented KMS in the transaction. 
Founded in 2005, KMS is a woman-owned small business dedicated to providing high quality consulting and technical services including C4ISR (Command, Control, Communications, Computers, Intelligence, Surveillance and Reconnaissance) systems engineering and integration; cybersecurity and information assurance; test range engineering and operations; and  training services to commercial and government clients. KMS has extensive experience supporting the U.S. Navy Submarine Force and the Intelligence Community.  KMS will be a wholly owned subsidiary of SUBSYSTEMs.
SUBSYSTEMs, headquartered in Arlington, Virginia, is a federal government contractor with over 30 years of experience supporting the DoD and civilian communities.  Specialties include advanced engineering, cyber security, management consulting, and a range of IT services.  SUBSYSTEMs has built a solid reputation for integrity and sustained excellence with long-term clients.
Gail Urso, CEO of KMS, commented, "Every interaction with the SUBSYSTEMs team has reinforced that we share a common vision of delivering high quality technical services to our clients.  With our complementary skills and capabilities, I am very excited about the future potential this deal unlocks for everyone at KMS."
Shane Thrailkill, CFO of SUBSYSTEMs, commented, "We are thrilled to have the KMS team join the SUBSYSTEMs family.  The growth opportunities created by combining our organizations was evident from the beginning and made this deal a natural fit."
Added Doug Rodgers, FOCUS CEO, "Both KMS and SUBSYSTEMs are highly professional organizations that deliver mission critical support to their clients.  The FOCUS team is proud of the role it played in bringing these two organizations together."
Doug Rodgers, FOCUS CEO, and April Taylor, Principal, were the FOCUS investment bankers managing this transaction.
*This testimonial may not be representative of the experience of all clients; testimonials are not a guarantee of future performance or success.
About FOCUS Investment Banking
With more than three decades of experience, FOCUS Investment Banking is a trusted name in M&A advisory services worldwide.  FOCUS works to understand each client's strategic and financial objectives, craft the best plan to achieve these goals, and deliver success.  Whether helping to sell, buy, or raise capital, FOCUS strives to maximize the value of every transaction to the benefit of its clients. Securities transactions conducted by FOCUS Securities LLC, an affiliated company, registered Broker Dealer member FINRA/SIPC. For more information on FOCUS and its Government, Aerospace and Defense practice, visit https://focusbankers.com/gad/.