FOCUS Investment Banking Represents Concours Collision in Sale
Sell Side M&A Investment Banking
Transaction is the FOCUS Automotive Group's first outside the US.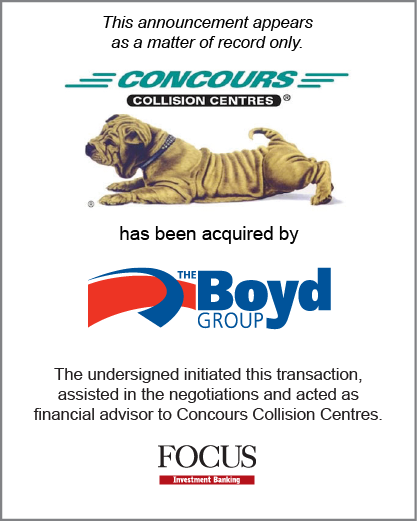 Washington, DC (August 9, 2017) -- FOCUS Investment Banking, a leading advisory and intermediary firm in the automotive services sector, is proud to announce that Concours Collision Centres and its 4 locations have been acquired by The Boyd Group, Inc. Concours represents the first transaction completed by FOCUS Automotive outside the US, and its 3rd transaction completed in the last 30 days.
Concours Collision, one of the premier operators in the Calgary, Alberta market, had been approached by multiple parties over a number of years. Three years ago they selected FOCUS to assist them in preparing for an eventual sale. Rick Thomas, the FOCUS Managing Director who led the transaction, commented "It is always good to see clients have multiple choices when it comes to determining who they are ultimately going to sell their company to – Concours was no exception. The process we ran elevated a higher level of interest from not only suitors we expected, but also surfaced a number of new potential buyers in the market." FOCUS Managing Director David Roberts stated, "Ultimately Concours decided the fit with The Boyd Group was a terrific opportunity. We are pleased for both parties."
The Boyd Group Inc. is one of the largest operators of non-franchised collision repair centres in North America. "We are excited to be expanding our presence in the Calgary region, a large market with a population of approximately 1.5 million," said Eric Danberg, President of the Boyd Autobody & Glass operations. "Our new locations will complement our 5 other centres in the Calgary area and provide us with 16 locations in Alberta to better serve our customers and insurance partners."
Owners Ken Friesen and Fiona Maxwell were delighted with their new partnership. Ken and his management team will remain to assist in Boyd's continued expansion. Fiona commented "Although the process of selecting and establishing a partnership isn't an easy one, it became obvious over time that Boyd was the best choice for us. Thanks to FOCUS, David and Rick for being with us every step of the way and guiding us to a successful transaction."
About FOCUS Investment Banking LLC
FOCUS Investment Banking LLC is a leading middle market investment bank that provides advice and services to entrepreneurs, corporate owners, and investors across a broad range of industries both domestically and worldwide. With offices in major cities across the US, FOCUS specializes in providing mergers, acquisitions, divestitures, and corporate finance services to business units with transactions or revenues in the $5-300 million range.
The Automotive Group of FOCUS Investment Banking is dedicated to advising and representing clients in the automotive industry including collision and mechanical repairers, paint and parts distributors, dealers and related vendors. Securities transactions conducted by FOCUS Securities LLC, an affiliated company, registered Broker Dealer member FINRA/SIPC.
For more information, visit www.focusbankers.com/automotive. Contact [email protected] or [email protected].
About The Boyd Group, Inc.
The Boyd Group Inc. (the "Company"), directly and through subsidiaries, is one of the largest operators of non-franchised collision repair centres in North America in terms of number of locations and sales. The Company operates locations in five Canadian provinces under the trade names Boyd Autobody & Glass (http://www.boydautobody.com) and Assured Automotive (http://www.assuredauto.ca), as well as in 20 U.S. states under the trade name Gerber Collision & Glass (http://www.gerbercollision.com). The Company is also a major retail auto glass operator in the U.S. with locations across 31 U.S. states under the trade names Gerber Collision & Glass, Glass America, Auto Glass Service, Auto Glass Authority and Autoglassonly.com. The Company also operates a third party administrator, Gerber National Claims Services ("GNCS"), that offers glass, emergency roadside and first notice of loss services. For more information on The Boyd Group Inc. or Boyd Group Income Fund, please visit our website at (http://www.boydgroup.com).