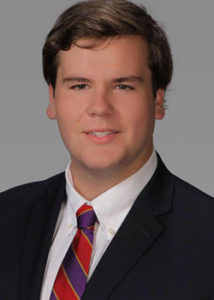 Drew Morgan
Associate – Advanced Manufacturing
drew.morgan@focusbankers.com
Drew Morgan has been a research associate for the Advanced Manufacturing and Automation Team since May of 2017. Drew assists the team create target lists and provides detailed target research for the Team's buy-side and sell-side engagements utilizing a variety of database resources to which the Team subscribes as well as industry specific websites and databases.
Drew is a recent graduate of The University of Alabama, double-majoring in Finance and Economics. Before joining FOCUS, Drew spent a Summer interning in the Shelby County TN Finance Department, and also helped to develop a student-led startup company specializing in a cardiac medical device.
Throughout the Spring of 2017, Drew spent time volunteering by helping lower income families of Tuscaloosa file their 2017 tax returns. This past year, Drew was awarded "Outstanding Greek Freshman" from the University's Order of Omega program. Upon graduation in 2020, Drew plans on pursuing his Master's in Finance before continuing his career in investment banking.
Contact Information
Drew Morgan
Associate – Advanced Manufacturing
Office of Supervisory Jurisdiction: Washington, DC Metro