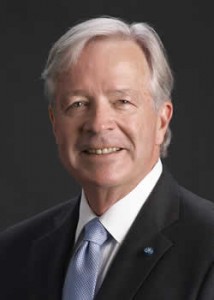 Dr. Bruce J. Holmes
Senior Advisor
bruce.holmes@focusbankers.com
Highlights
Principal, Holmes Consulting, LLC
Highlights
Founder of NextGen Sciences, LLC
Highlights
Chief Strategist, DayJet Corporation
Highlights
Founder, DayJet Technologies
Highlights
Chief Strategist, National Aeronautics and Space Administration
Industry groups
Industry groups
Dr. Bruce J. Holmes is currently the principal in Holmes Consulting, LLC and co-founder of NextGen Sciences, LLC. His companies support a variety of industry, government, and university clients in strategy, technology, aviation systems development, and public-private partnerships. He also consults for several boards of directors and advisory councils in industry, government, and academia.
In 2007, Holmes joined DayJet Corporation, supporting the launch of the industry's first per-seat, on-demand air carrier. Holmes served as Chief Strategist, linking the internal and external technical strategies, public-private collaborations, and alliances in support of the scalable expansion of the DayJet business model. In this role he led the establishment of a partnership between the Federal Aviation Administration, the State of Florida Department of Transportation, and DayJet to implement applications of advanced airspace management capabilities in the Federal Aviation Administration's Florida national test bed as a prelude to national implementation. His responsibilities included air mobility advocacy on Capitol Hill, with the Administration, and in departments and agencies in the Federal and State sectors.
Holmes was a founder of the successful spinout, DayJet Technologies, to market the software platform capabilities for fully automated air carrier operations for nearer-term client applications. At the end of 2008, Dr. Holmes left DayJet Technologies to focus on longer-term interests.
Prior to joining DayJet, Dr. Holmes retired from 33 years with the National Aeronautics and Space Administration as their Chief Strategist. As a member of the federal Senior Executive Service, Holmes served in the White House Office of Science and Technology Policy on national air transportation system strategies, and he led in the strategic development of the U.S. Joint Planning and Development Office (JPDO, which focused on the Next Generation Air Transportation System [NextGen]). He also led the creation of the NASA AGATE (Advanced General Aviation Transport Experiments) Alliance and the SATS (Small Aircraft Transportation System) programs, which were instrumental in the transformation of the General Aviation industry over the past decade. He designed and operated innovative governance processes for these large-scale public-private partnerships. Dr. Holmes is known domestically and internationally for his strategic leadership in the emergence of small aircraft and community airports for public transportation, as well as his championship for strategies affecting future generations of air transportation vehicles, airspace systems, and airports.
Holmes has been involved in a full spectrum of aeronautics research, from fluid physics to network science implications for transportation systems. He has directed several research programs, fostering the technological foundations on which several new aviation companies have been formed. His work has spanned aircraft types from Ag-cats (a biplane crop duster), to general aviation transportation aircraft to hypersonic vehicles.
Holmes's championing the Highway in the Sky concept was the focus of an CBS 60 Minutes program; he has also appeared on the Discovery Channel, the History Channel, in NASA's educational programming, and in numerous national news broadcasts. His work in communications led to both a Crystal and Emmy awards for NASA. His contributions to the creation of the emerging space in the market for personal air mobility were chronicled in the book, Free Flight – Reinventing Air Travel, by James Fallows.
Holmes has published over seventy-five technical papers, received four patents, and been honored with numerous NASA medals and professional society awards, most recently as a member of the team receiving the prestigious Collier Trophy, He is a fellow and past Engineer of the Year in the American Institute of Aeronautics and Astronautics. He was honored for innovation in partnership governance with the Virginia Bar Association Award for "Significant Accomplishment in Aviation Law." He was also a Harvard Senior Executive Fellow at the JFK School of Government and honored by the University of Kansas on the Aerospace Engineering Alumni Honor Roll. The National Air Transportation Association recognized Holmes with their Award for Distinguished Service to the industry. Holmes is a commercial, multi-engine, Citation type-rated pilot and former flight instructor with forty years civil aviation experience.
Contact Information
Dr. Bruce J. Holmes
Senior Advisor
205 Skimino Landing Dr.
Williamsburg
,
VA
23188-2251
United States
Office of Supervisory Jurisdiction: Washington, DC Metro