Volume 14: 2016 – No. 4, April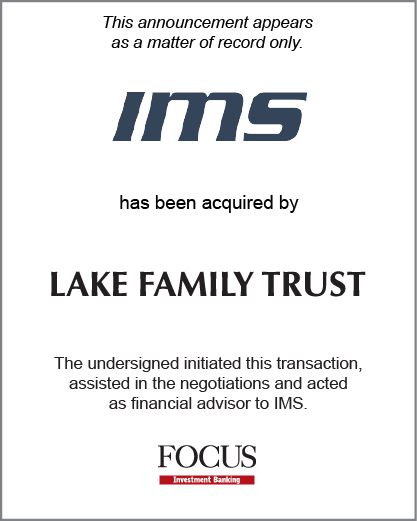 FOCUS Investment Banking, a national middle market investment banking firm providing merger, acquisition, divestiture, and corporate finance services announced that Information Management Services (IMS) has been acquired by Lake Family Trust. FOCUS represented IMS and the court appointed custodian, Mark Morton of Potter Anderson & Corroon LLP, who was selected to manage the sale of the company.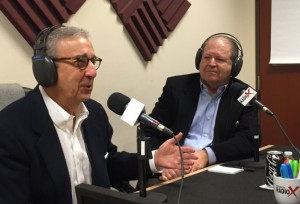 Excerpts from a CEO Exclusive Radio interview featuring Jonathan Wilfong, Regional Managing Partner, Southeast; Healthcare and Life Sciences Team Leader; and Energy Co-Team Leader, FOCUS Investment Banking LLC*
Q: What does it mean to be a "platform company?" Should a business owner aspire to be a platform company?
WILFONG: First, a business owner needs to develop his company with a good management team, a good customer base, and all those things that comprise a successful company. At that point, the business owner is not really thinking about whether the company is going to be a platform for a portfolio and for add-ons.
*Broadcast February 2, 2016 on CEO Exclusive Radio, Atlanta, GA; Host Soyini Coke. Part 1 of this article appeared in the March 2016 FOCUS Newsletter.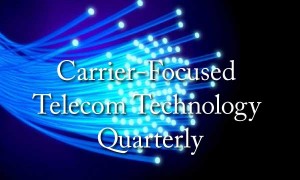 In public markets, the FOCUS Carrier-Focused Telecom Technology Index (CFTTI) had a rough go of it over the past three months. The CFTTI dropped 8.2% over this time frame with every single sub sector in negative territory for the period. The only consolation was that the CFTTI's performance was only somewhat worse than the 7.1% drop in the S&P 500…
"For technology to advance human productivity and prosperity, it needs a coordinated effort to share it everywhere and with everyone," notes the Wall Street Journal on January 20, 2016. "The information-technology revolution has transformed our lives: how we drive, how we order taxis and record daily events, how we consume movies and the news. It has also transformed how we run companies and produce goods.
Operating nationally and internationally, FOCUS currently is working with buy- and sell-side corporate clients, private equity groups, holding companies, and late stage venture capital firms in 24 areas:
Advertising and Marketing
Building Materials
Business Consulting Services
Business Process Outsourcing
Call Center Services
Distribution
Education and Human Capital
Electronics
Engineering
Financial Services
Manufacturing
Media
Parking Services
Retail Franchising
Semiconductor Equipment
Telemarketing
Warehouse Distribution
We have executed dozens of transactions in a range of market segments, but the same fundamentals apply across all of them. Our on-going transaction process provides us with up-to-the-minute market knowledge in these sectors that may be of corporate development interest to you.
Inquiries should be addressed via e-mail to info@focusbankers.com, by telephone to 202-470-1973 or by fax to 202-785-9413.
Founded in 1982 in Washington, D.C., FOCUS Investment Banking, LLC provides a range of investment bank services tailored to the needs of middle market businesses and their executives. Today, we are a national firm serving clients from offices in major cities across the United States. FOCUS specializes in serving business units with revenue or transaction sizes between $5 and $300 million, serving entrepreneurs, corporate owners, and various types of investors. FOCUS clients include large corporations and private equity firms that engage the firm for middle market transactions.
FOCUS has achieved a very high close rate on accepted buy side, sell side, and corporate finance mandates because of the unique resources, processes, and perspective that we bring to middle market investment banking. FOCUS has developed a systematic, research driven, open, and proven transaction process. It is the driving force of our firm and distinguishes us from other investment banks serving the middle market.
With extensive investment banking transaction experiences and a group of seasoned operating and financial executives, our firm provides a unique value proposition. We bring a strong operating perspective, a wealth of practical experience, and a proven research and transaction process to our middle market clients. Our knowledgeable resources include seasoned partners, managing directors, principals, senior advisors, research staff, internal databases of national and international contacts, and deal experience in a range of industry sectors.