Volume 14: 2016 – No. 1, January
FOCUS Investment Banking, a national middle market investment banking firm providing merger, acquisition, divestiture, and corporate finance services, announced today that ncgCARE has acquired Turning Point Family CARE. FOCUS represented ncgCARE in the transaction.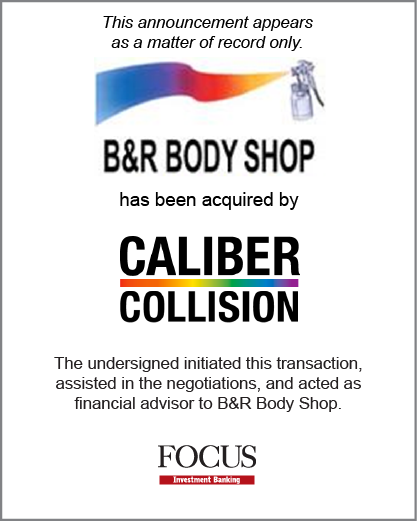 FOCUS Investment Banking, a national middle market investment banking firm providing merger, acquisition, divestiture and corporate finance services announced today that B&R Body Shop has been acquired by Caliber Collision Centers. FOCUS represented B&R Body Shop in the transaction.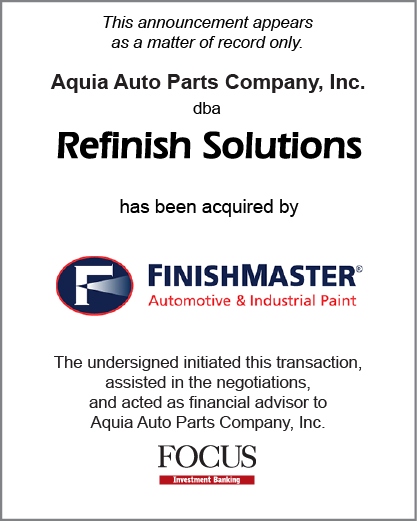 FOCUS Investment Banking, a national middle market investment banking firm providing merger, acquisition, divestiture and corporate finance services announced today that Aquia Auto Parts Company, Inc. dba Refinish Solutions has entered into an agreement to be acquired by FinishMaster, Inc., a subsidiary of Uni-Select, Inc. (TSE:UNS). FOCUS represented Refinish Solutions in the transaction.
Refinish Solutions, a PPG Platinum distributor with two locations in the Washington DC market, has distinguished itself over the past 13 years as one of the most rapidly growing paint jobbers in the nation.
Posted January 1 byJeff Hooke, Managing Director, FOCUS Investment Banking, LLC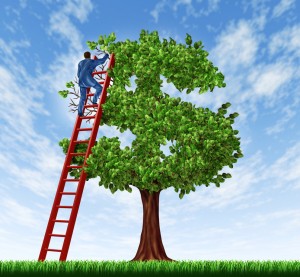 2015 FactSet statistics show that large M&A transactions had higher value multiples than small deals—and the premium is about 30 percent. Median EV/EBITDA multiples for deals exceeding $250 million approximated 12.4x, while the ratio for middle-market transactions was 9.5x. This phenomenon of higher multiples for larger deals has been persistent over time.
In public markets, the FOCUS Enterprise-Focused Telecom Technology Index (EFTTI) dropped 3.0% in our fall reporting period, which underperformed both the 1.2% drop in the S&P 500 and the 1.5% drop in the NASDAQ. This was the second straight reporting period where the EFTTI underperformed the broader indices. On the bright side, the EFTTI continues to maintain a lead over the broader indices for the 12-month period…
This most recent three month period saw a pickup in M&A activity even when compared to the already brisk pace that we have seen thus far this year. We saw 46 transactions for the period, which brings our year-to-date total to 140. With two months remaining in the year, it seems a virtual certainty that 2015 will surpass 2015 as the highest level of transaction volume of any year in the last five. Even more impressively, total announced transaction dollar volume now stands at $20.5 billion.
In public markets, it was a solid three-month period for the FOCUS Carrier-Focused Telecom Technology Index (CFTTI) with returns coming in on par with the broader indices. The CFTTI gained 6.1% this three-month period, slightly higher than the 5.5% gain in the S&P 500 but slightly lower than the 7.0% gain in the NASDAQ. Gains were broad-based, with five of our seven sub sectors delivering a positive return. The CFTTI still lags the broader indices for the full year…
M&A activity for the three-month period was relatively anemic. We counted only 15 transactions with a total dollar volume just shy of $685 million. This marks the second straight reporting period where we have seen a slowdown in activity. For year-to-date 2015 through November, we now stand at 74 total transactions with nearly $23 billion in announced transaction dollar volume.
Operating nationally and internationally, FOCUS currently is working with buy- and sell-side corporate clients, private equity groups, holding companies, and late stage venture capital firms in 24 areas:
Advertising and Marketing
Building Materials
Business Consulting Services
Business Process Outsourcing
Call Center Services
Distribution
Electronics
Engineering
Financial Services
Manufacturing
Media
Parking Services
Retail Franchising
Semiconductor Equipment
Telemarketing
Warehouse Distribution
We have executed dozens of transactions in a range of market segments, but the same fundamentals apply across all of them. Our on-going transaction process provides us with up-to-the-minute market knowledge in these sectors that may be of corporate development interest to you.
Inquiries should be addressed via e-mail to info@focusbankers.com, by telephone to 202-470-1973 or by fax to 202-785-9413.
Founded in 1982 in Washington, D.C., FOCUS Investment Banking, LLC provides a range of investment bank services tailored to the needs of middle market businesses and their executives. Today, we are a national firm serving clients from offices in major cities across the United States. FOCUS specializes in serving business units with revenue or transaction sizes between $5 and $300 million, serving entrepreneurs, corporate owners, and various types of investors. FOCUS clients include large corporations and private equity firms that engage the firm for middle market transactions.
FOCUS has achieved a very high close rate on accepted buy side, sell side, and corporate finance mandates because of the unique resources, processes, and perspective that we bring to middle market investment banking. FOCUS has developed a systematic, research driven, open, and proven transaction process. It is the driving force of our firm and distinguishes us from other investment banks serving the middle market.
With extensive investment banking transaction experiences and a group of seasoned operating and financial executives, our firm provides a unique value proposition. We bring a strong operating perspective, a wealth of practical experience, and a proven research and transaction process to our middle market clients. Our knowledgeable resources include seasoned partners, managing directors, principals, senior advisors, research staff, internal databases of national and international contacts, and deal experience in a range of industry sectors.