Download the FOCUS Telecom Business Services Quarterly: Spring 2014 Report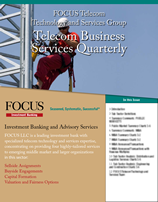 The FOCUS Telecom Business Services Index (TBSI) maintained the positive momentum from our Winter report and started out the year with a strong gain of 4.7%. This was well in excess of both the 1.3% gain in the S&P 500 and the 0.5% gain in the NASDAQ. Despite this strong performance, the TBSI's year-over-year gain of 15.5% still trails both of the broader indices for this period. Sector multiples also increased compared to this same period last year….
In the M&A area, volume bounced back significantly in the Telecom Business Services sector in the first three months of 2014. After two straight reporting periods with relatively light transaction volume, we counted 39 announced transactions in this current three month period. This means that 2014 is out of the gate significantly faster than either of the past two years.
Download here: FOCUS Telecom Technology and Services Group's Telecom Business Services Quarterly - Spring 2014 Report, Vol. 4, No. 2.