FOCUS Information Technology Group: Winter 2014 Report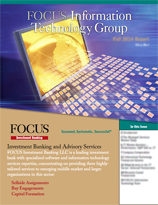 Strategic acquirers are showing strong interest in lower middle market software and IT services firms in an effort to continue to augment their offerings and expand their geographical presence. Overseas companies, particularly those in Europe and India, continue their buying push into the US market at favorable multiples.
Finally, private equity firms have stepped up their efforts in a big way and are providing a real "second bite of the apple" alternative to the full sale of a business through majority recaps that leave sellers with continuing equity interests in the enterprise. All told, we believe 2014 represents a very exciting window for business owners of IT companies that are looking for exits, recapitalizations, and/or growth equity for acquisitions.
Download it here:  FOCUS Information Technology Group - Winter 2014 Report