Download FOCUS Government, Aerospace and Defense (GAD) Group's Q4 2014 Report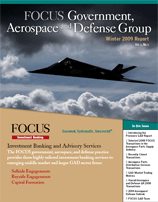 The latest issue of the FOCUS Government, Aerospace, and Defense Group Report — highlighting aerospace and defense — is now available. The new GAD Report includes:
Major Q4 2014 Deals in the GAD Sector-- Cubic Corporation Acquisition of DTECH LABS, Inc.; VSE Corp. Acquisition of Prime Turbines, CT Aerospace, Kansas Aviation, and Air Parts & Supply Co.; and Raytheon Company Acquisition of Blackbird Technologies, Inc.
Performance: S&P 500 versus GAD (01/06/2014 – 01/02/2015) plus performance of three custom indexes compiled by FOCUS to track public market valuation trends in each GAD sector
M&A Activity in the GAD Sector by Quarter (Q3 2013 to Q4 2014)
Selected GAD Transactions Q4 2014
Recent FOCUS GAD Transactions ...