Download the FOCUS Information Technology Group's Fall 2015 Report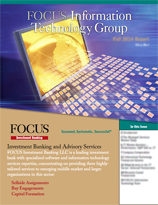 The FOCUS IT Team has been extremely busy as 2015 is turning out to be an exceptional year for M&A.
This Fall 2015 Report features the market for mobile app development and user experience (UX) firms, examining trends toward M&A activity in this sector as large enterprise companies across multiple industry sectors move toward mobile-first strategies. The new Report includes:
The Market for Mobile App Development and UX Firms
IT Market Analysis—Performance: S&P 500 vs. IT
Company Comparables
Information Technology Transaction Volume
M&A Activity in the IT Sector: Selected Transactions Summer 2015
Recently Closed Transactions
FOCUS Information Technology Team
The FOCUS team has concluded hundreds of millions in transactions in this industry.