Download the FOCUS Information Technology Group's Fall 2016 Report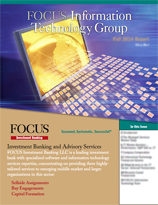 Our IT Team has been extremely busy as 2016 is turning out to be an exceptional year for M&A.
This new FOCUS IT Report features an article based upon a recent Newstalk Radio Atlanta joint interview of FOCUS Managing Partner Manan K. Shah and I. In the program, Manan and I discuss in-depth the criteria for preparing to sell and assess the current selling climate, a typical exit process, negotiations, different types of buyers, and the importance of a strong management team. We trust you will find the resulting article both interesting and informative.