Download the FOCUS Information Technology Group: Fall 2014 Report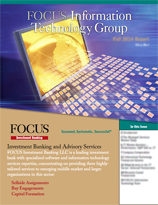 The FOCUS IT Team has been extremely busy as 2014 is turning out to be an exceptional year for M&A.
One of the key drivers behind the flurry of activity is business transformational change, particularly the paradigm shift to cloud computing and the emergence of the Managed Service Provider as a cost-efficient vehicle for converting companies' in-house infrastructure and applications to the cloud and maintaining them.
This Fall 2014 Report features the MSP market, including an article entitled, "The Managed Services Market Today," which explains why its recurring revenue model is increasingly attractive to both buyers and investors. The new Report includes:
The Managed Services Market Today
IT Market Analysis—Performance: S&P 500 vs. IT
Company Comparables
Information Technology Transaction Volume
M&A Activity in the IT Sector: Selected Transactions
Recently Closed Transactions
FOCUS Information Technology Team
The FOCUS team has concluded hundreds of millions in transactions in this industry.
Download here: FOCUS Information Technology Group - Fall 2014 Report