Download the FOCUS Healthcare and Life Sciences Report: Winter 2016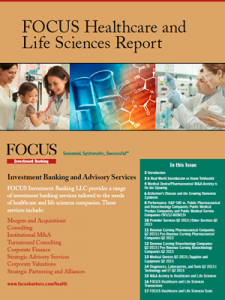 Global Healthcare M&A was very robust in 2015 with $725 billion in transaction value (up 66 percent from 2014) driven by mega deals in pharma and insurance.
The middle market was strong as well, with heavy activity in healthcare IT and the consolidation of provider prac- tices into integrated healthcare provider organizations.
These acquisitions have been driven by a number of fac- tors, including reimbursement pressures favoring hospital- based providers, the increasing costs of Electronic Health Records (EHR) implementations and increasing pressure on providers to deliver a full continuum of care to support outcomes-based reimbursement mandates.