Download the FOCUS Healthcare and Life Sciences Report: Summer 2016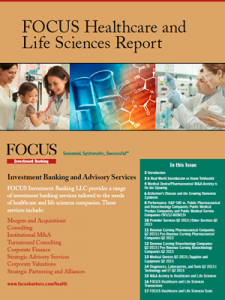 I hope you all are enjoying your summer and spending time with your family and friends. As Team Leader of the FOCUS Healthcare and Life Sciences Practice Group, I'm pleased to introduce the Summer 2016 issue of the FOCUS Healthcare and Life Sciences Report.
In this issue, Barry Michael, a FOCUS Senior Advisor, follows up on his Winter 2015 article about Cologuard® with news about Epi proColon, a new and less invasive colon cancer test.
We also have an article by the staff of Dr. Jim Hawkins, a FOCUS Managing Director; that explains value-based drug pricing and how it can prevent further examples of some of the recent surges in drug prices and allow for the fair adjustment of many drug prices in the future.
So far in 2016, the global M&A market has seen a significant slowdown compared with the heady days of 2015. Both transaction volumes and valuation multiples are down from the peak, but still relatively strong based on historical levels.
Much of the falloff has been in mega-deals and in Europe. Primary factors include political and economic concerns in Europe and a reduction in the historically high senior debt multiples resulting in part from regulatory pressures on banks to rein in their highly leveraged loan portfolios.
In the middle market, however, we continue to see strong demand, particularly from strategic buyers. Private equity firms continue to report good access to capital, particularly from the still growing stable of non-bank lenders seeking the business of PE sponsors. Many are reaching out directly to non-sponsored companies as well.
One increasingly important trend is the increase in corporate venturing by companies anxious to expand into new technologies and markets and find that teaming of smaller innovative players is the best way to do so.
Bottom line we continue to be in a good market for both sellers and private companies in need of growth capital. We see nothing on the horizon that leads us to conclude that the current cycle will end in the near future.
Even the political craziness of the U. S. Presidential election, often a big negative for the M&A market as sellers and buyers alike hold off due to the uncertainty involved, has not yet had an appreciable impact on the middle market.
We hope you enjoy this issue of our newsletter.