Download the FOCUS Healthcare and Life Sciences Report: Spring 2016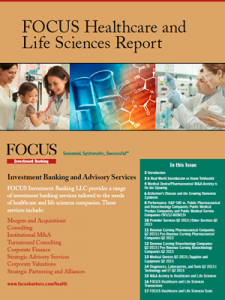 In this issue, we present our own targeted data, with a recap of healthcare M&A market activity and details of significant Healthcare M & A transactions since the date of our last report.
While federal regulatory pressures seem poised to further dampen the mega deal activity, by all reports strategic interest in good middle market healthcare providers remains quite strong with consolidation still the watch-word.
Financial buyers tend to be somewhat limited by historical performance metrics in their ability to compete for fast growth rms. Strategics, on the other hand, can factor in the impact of new technologies, skill sets, and markets in making more aggressive offers than ones supported by historical numbers alone. That's why roughly 85 percent of our sell side transactions are to strategic buyers.
On the personal health front, we have included an informative article by FOCUS Managing Director, Craig Ladkin, in which he reviews some important new developments in the diagnosis and treatment of stroke, the third largest killer in the United States.
In addition to identifying a new "tell" for someone who may be suffering from a stroke, Craig has outlined several innovative new approaches to rehabilitation. He also reports on some exciting new developments on the bio- pharmaceutical front for stroke victims.
We hope you enjoy this issue of our report. It may save the life of one you love.